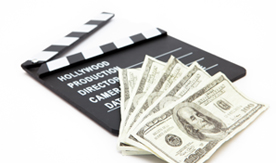 Films Contribute to State's Financial Picture, According to UMaine Economist
Movie lights and cameras have resulted in economic action in Maine.
University of Maine economist Todd Gabe says including multiplier effects, film and photography sectors contributed nearly $118 million to the statewide economy in 2010, as well as 2,057 full- and part-time jobs, and $33.1 million in salaries.
The total financial impact of movie production and photography in Maine in 2010 was similar to the amount grossed that year by Shutter Island — $128 million.
A few scenes of that mystery-thriller starring Leonardo DiCaprio and Ben Kingsley were shot in Maine. The $128 million grossed by Shutter Island was good for 20thoverall among movies in 2010. (Toy Story 3 was tops at the box office that year, grossing more than $415 million.)
In 2010, Gabe says movie and photography industries directly supported 1,698 jobs in Maine — including people working full- and part-time for film production companies and photography businesses, as well as self-employed people. The jobs, he says, provided about $19.6 million in salaries.
"Maine is a great state for filmmakers and the entire state benefits from a vibrant film industry," says Karen Carberry Warhola, director of the Maine Film Office. "Creating conditions to encourage filmmaking in Maine can be economically advantageous to the state."
Nationwide in 2010, including multiplier effects, the U.S motion picture and television industry supported 2.1 million jobs and $143 billion in wages, according to the Motion Picture Association of America.
A multiplier is when an increase in spending in a given industry initiates a flow of expenditures to other companies and workers that generates more economic activity.
The Maine Attraction Film Incentive Program, adopted in 2006, gave tax reimbursements and credits to companies involved with eight projects involving video or photo shoots in the state in 2012, and 17 in 2011. The projects resulted in approximately 108 full- and part-time jobs in 2012 and 281 in 2011, Gabe says.
Including multiplier effects, Gabe says projects supported by the Maine Attraction Film Incentive Program during 2011 and 2012 generated a total statewide economic contribution of $11.6 million in output, an average per year of 195 full- and part-time jobs and 3.4 million in wages.
Gabe has conducted a number of studies about the impact of entertainment and tourism-related industries on local economies, including the Waterfront Concert Series in Bangor and cruise ship passengers in Bar Harbor and Portland, Maine. This study was conducted with input from the Maine Film Office.
Contact: Beth Staples, 207.581.3777