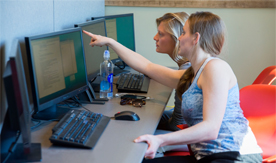 Wheatland Geospatial Analysis Lab to be Dedicated April 23
The Barbara Wheatland Geospatial Analysis Laboratory in the School of Forest Resources at the University of Maine will be dedicated in a ceremony April 23 in Nutting Hall.
The state-of-the-art laboratory was made possible by $200,000 from the Maine Timberlands Charitable Trust (MTCT) to honor the Massachusetts native who had a passion for the Maine woods, and was committed to forestry research that can promote environmental quality and economic development. The lab focuses on global positioning systems (GPS), geographic information systems (GIS) and geospatial analysis methods that have revolutionized forest management.
Barbara "Bee" Wheatland earned a degree in economics from Radcliffe College at Harvard University and pursued a 50-year career that included editing articles for the New England Journal of Medicine. Although much of her life was spent in Massachusetts, she sailed and hiked in Maine, and retired to Sargentville, where she built a home and pursued woodlands-related interests that included certified "green" forestry practices.
Upon Wheatland's death in 2010, her estate established MTCT to be used, in part, to promote the development of forestry or timberland technology and activities that support the forest and other land resources in Maine.
In January 2012, the MTCT provided $200,000 to build and endow the Wheatland Geospatial Analysis Laboratory. The Wheatland Lab was designed to provide a center of excellence for geospatial analysis for undergraduate and graduate education, as well as faculty research.
The lab opened in January 2013 and course enrollment increased from 40 to 70 students.
In addition, MTCT funded a five-year Wheatland Assistant Professorship ($50,000 per year for five years) to hire a new faculty member to teach and conduct research in the laboratory and oversee lab activities.
Contact: Margaret Nagle, 207.581.3745