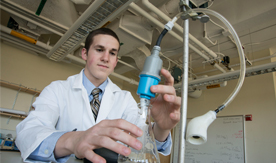 Water Quality
First-year University of Maine chemistry student Bryer Sousa has been awarded a $10,000 Projects for Peace grant from the Davis Foundation to install biosand water filters in 50 households in an impoverished rural region of Honduras.
Through the community service project, Sousa hopes to bring clean water to the Trojes region of Honduras, offering residents a higher quality of life.
Sousa, who is from Amesbury, Mass., will travel to Honduras in June as a member of a team sponsored by the nonprofit Pure Water for the World that will include 10 students and seven adult leaders, some of whom are UMaine scientists and engineers.
The project aims to bring relief to the families of the Trojes region, as well as provide Sousa with more data to be used in his UMaine research focused on creating a more sustainable water-filtration system in underdeveloped countries through the use of nanofibrillated cellulose.
The Projects for Peace grant was started in 2007 by 106-year-old philanthropist Kathryn W. Davis on her 100th birthday. In 2013, more than $1.20 million was awarded in $10,000 grants to students who submitted winning proposals for projects to be completed over the summer.
The Davis Foundation funds projects that address conflict resolution and reconciliation, foster understanding, provide opportunity and build community, according to the group.
Sousa, who is pursuing a double major in chemistry and physics with a minor in mathematics, has been collaborating on his research with Barbara Stewart, a UMaine chemistry professor; Francois Amar, chair of the Chemistry Department; and Finley Richmond, a chemical engineering graduate student from Haiti who has a personal interest in the importance of clean drinking water in Third World countries.
The group, along with help from some Bangor High School chemistry students, have been researching water filters made with nanofibrillated cellulose, a natural nanomaterial that can be extracted from plant foliage.
As opposed to the concrete or plastic biosand filters that cost about $75, the nanofibrillated cellulose filters would be sustainable, environmentally friendly, biodegradable and cost around $20 per filter, Sousa says.
Knowing Pure Water for the World and Water for ME, a nonprofit Maine organization focused on clean water system research and implementation, was sending teams to Honduras this summer, Sousa saw an opportunity to collect more data to aid his research.
He decided against implementing his nanofibrillated cellulose filters, which are still in the testing stages, in favor of reliable biosand filters that people in the region are already used to.
"This group (Pure Water for the World) has implemented biosand filters before and it's something I would drink from myself," Sousa says.
Sousa says he didn't want to risk using the grant on filters he wouldn't feel comfortable using himself when people are in need of clean water.
"This is giving me the opportunity to help people, because this is all about the clean water," Sousa says. "It's not about who does this kind of filtration versus that kind of filtration."
Sousa hopes the project will bring attention to the need for water quality, and offer a temporary solution while he investigates nanofibrillated cellulose filters as part of his research.
During the trip, Sousa and his team also plan to investigate the ceramic Sawyer filter that has been donated to Pure Water for the World and has been used in Honduras and other locations. Sousa says the nonprofit wants to ensure the filters are meeting the standards the company claims.
"I'm going to basically understand that filter like the back of my hand and evaluate as many as possible to make sure they're getting adequate water and it meets standards, and see if the Sawyer filter is something we'd ever want to use again," Sousa says.
Undergraduates at 90 partner schools of the Davis United World College Scholars Program, the International Houses Worldwide, Future Generations, the Graduate Institute in Geneva, and the University of Maine are invited annually to submit Projects for Peace proposals. Winning proposals selected by representative committees at each participating campus are funded through the foundation.
"It means a lot that this is actually going somewhere, that people recognize this is an issue, that they have trust in me to be able to fill those shoes and take on that role of trying to solve it," Sousa says.
Contact: Elyse Kahl, 207.581.3747