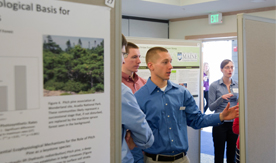 Undergraduate Research and Academic Showcase April 16
University of Maine undergraduate research will be highlighted in the 4th annual Undergraduate Research and Academic Showcase, 8 a.m.–5 p.m., Tuesday, April 16 at Wells Conference Center.
The event, sponsored by UMaine's Center for Undergraduate Research and open to any undergraduate at the university, will feature presentations from 117 students, consisting of 77 posters, 32 oral presentations or performances, and eight exhibits.
Students presenting projects that receive the highest scores from judges in each format will receive awards ranging from $50 to $200 in various categories, according to Diane Belanger, graduate assistant with the Center for Undergraduate Research.
The UMaine community and general public are welcome to attend the free event. For more information or to request disability accommodations, contact Diane Belanger, 207.581.3583.
Vice President for Research Mike Eckardt will give opening remarks at 9 a.m. UMaine President Paul Ferguson is expected to give closing remarks during the awards presentation starting at 4:30 p.m., followed by the announcement of the Summer Research and Creative Academic Achievements Fellowship winners by Executive Vice President for Academic Affairs and Provost Susan Hunter. Six students will be awarded the $3,000 fellowship.
More information on the showcase is available on the Center for Undergraduate Research's website.
Contact: Elyse Kahl, 207.581.3747