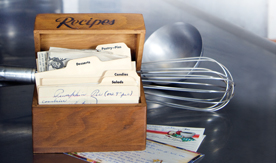 UMaine Extension Brings Popular Small Business Series to Campus
This spring in Orono, University of Maine Cooperative Extension will offer its Recipe to Market series for anyone considering starting a food business.
The four-session program, with two optional sessions, is scheduled March 21 through April 25 at UMaine's Foster Center for Student Innovation. It is a step-by-step course for converting a personal recipe into a business.
Leading the program are Beth Calder, a UMaine Extension food science specialist and associate professor of food science, and Jim McConnon, UMaine Extension business and economics specialist, professor of economics and authority on small and family businesses in Maine. Also participating in the series are UMaine Extension Professor Louis Bassano, Jason Bolton, UMaine Extension assistant professor for food safety, and program planning team member Jesse Moriarity, director of the Foster Center for Student Innovation. A panel discussion will include representatives from the Maine Department of Agriculture, in addition to an insurance expert, banker, attorney and food business owner.
Recipe to Market is an extensive workshop series focusing on such topics as licensing, regulations, food safety, testing and business management skills. The program also delves into regulations on labeling and special considerations for producing acidified canned foods.
In addition, program participants learn about some of the sources available to support them in business development, and how to add value to an existing business.
Recipe to Market is offered twice a year throughout the state, and has generated success stories about how specialty food producers have succeeded in marketing a product that began with a great idea, according to McConnon and Calder. The spring 2013 sessions are the first to be offered at UMaine. In the fall, the program will be offered in Cumberland County. Since the program's inception in 2007, more than 100 people have participated.
Magic Dilly Beans company founder Brian McCarthy of Belfast, who intends to begin marketing specialty pickled dilly beans this spring, says the Recipe to Market classes he took at UMaine Extension's Waldo County office saved him time and probably money by introducing him to the many complexities of market research, product pricing, packaging and distribution. Most important, he says, was learning to better understand his target market, his competition and pricing for a successful business start-up.
"I think it was very important, for multiple reasons," he says. "This course helps you know what it takes. You can have a great recipe, but there's much more to it. That's why a lot of people fail in this industry."
Orono sessions now scheduled:
March 21, 5:30–8 p.m., "Are You an Entrepreneur? What Is Involved?"
March 28, 5:30–9 p.m., "Developing Your Product and Process"
April 4, 5:30–9 p.m., "Business Realities"
April 11, 5:30–9 p.m., "Resource Panel"
April 18, 9 a.m.–4:30 p.m., individual business counseling
April 25: food pilot plant tours on campus
Recipe to Market program fees are $50 per person; $25 for students. Additional information is available on the UMaine Extension website. Registration deadline is March 14. For reservations or to request disability accommodations, contact Theresa Tilton, 207.942.7396 or theresa.tilton@maine.edu.
Contact: Jim McConnon, 207.581.3165 / Beth Calder, 207.581.2791