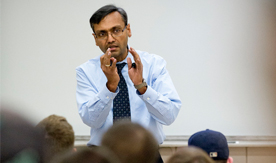 UMaine Business School Professor Cited as Educational Leader
University of Maine finance professor Pankaj "Pank" Agrrawal is cited in a list of influential business school professors who are reshaping the curriculum and teaching extensively about exchange-traded funds at major universities, according to ETF Database (ETFdb), a global leader in market analysis, tracking and ratings.
ETF (exchange traded funds) are a type of derivative investment vehicle often linked with a stock, bond, commodity, currency, sector or country index, which have gained popularity in recent years. Their correct use can dampen volatility and improve the risk-return tradeoff. ETFdb noted that the 17 professors it featured on its website "have continually played a major role in the world of finance and economics."
Among those also on the list are Nobel Prize winner William Sharpe of Stanford University, Yale University's Robert Shiller, and faculty members from the Massachusetts Institute of Technology, the Wharton School, and Northwestern, NYU, Boston University, University of Notre Dame, Lehigh and other leading universities. The list is online.
Agrrawal, an associate professor of finance who joined the UMaine Business School in 2005, frequently has been recognized for his expertise in finance, investments and portfolio efficiency methods. His research on ETF's and related topics has been listed on the Frankfurt-DAX stock exchange website and cited in the Wall Street Journal. He previously spent more than eight years in the investment management industry, where he was portfolio manager and director of research at leading global asset management firms in San Francisco, Boston, London and Philadelphia. He received his doctorate from the University of Alabama and has taught evening classes at Harvard and Drexel universities.
Agrrawal's research interests include financial modeling using ETFs, forecasting using big data simulation and numeric analysis, portfolio optimization procedures, stable-beta estimation, digitizing investor sentiment as applied to behavioral finance and developing algorithms for Web-harvesting financial information. Agrrawal applies the data to extend existing work in areas such as multi-asset class diversification, risk-parity investing and modeling of human fallout during financial crises.
He is a the author of more than 25 papers at refereed conferences and 12 papers in academic journals, including the Financial Analysts Journal, the Journal of Behavioral Finance and the Journal of Investing.
Agrrawal also is the founder of Advanced Portfolio Solutions and Cloud Epsilon LLC, which he created as a service to disseminate information to the quantitatively oriented finance community. Products include large-scale ETF correlation-covariance matrices, beta estimates and the CorrectCharts and ReturnFinder finance iApps, which have been downloaded on iTunes in more than 30 countries.
Contact: George Manlove, 207.581.3756