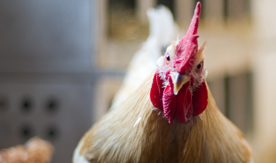 Statewide Photo Contest Will Highlight the Finest Poultry Coops
In recognition and celebration of the growing popularity of poultry raising, the Maine Poultry Growers Association and the University of Maine Cooperative Extension are sponsoring the first Maine Poultry Coop Contest.
The purpose of the contest is to showcase the many and varied coop designs used by Maine poultry keepers and enthusiasts. Poultry owners are invited to enter a photo and description of their coops by Dec. 31, 2012.
The Maine Poultry Growers Association will award prizes of $200, $100, $50 to the top three entries, respectively. Fourth and fifth place winners will receive a subscription to Backyard Poultry magazine.
All entrants must be Maine residents. Entries must include at least one coop photo (not more than three photos) and a completed entry form. Entry forms and photos may be submitted online, in person or mailed to: Poultry Coop Contest, University of Maine Cooperative Extension, 75 Clearwater Drive, Falmouth, Maine 04105
Coops may be seasonal, year-round, stationary or mobile. They may be multipurpose and need not be original designs.
A team of judges will evaluate each entry based on specific criteria, including design, purpose, space, construction materials, safety, cost and unique features. Winning entries will be announced at the Maine Agricultural Trades Show Jan. 9, 2013 at the Augusta Civic Center. Entrants need not be present to win.
More information and the entry form are online or available by contacting Andrea Herr, 207.781.6099 or 1.800.287.1471 (toll free in Maine only).
Contact: Andrea Herr, 207.781.6099