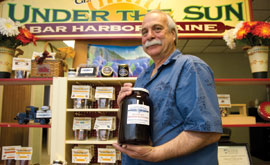 Strengthening the Downeast Economy
ELLSWORTH – The University of Maine Cooperative Extension is helping fuel the entrepreneurial spirit in Downeast-area business communities Nov. 1–2 with the first Hancock County Business Conference and Trade Show. Maine Gov. Paul LePage is scheduled to give a keynote address on Nov. 2.
More than 100 representatives from area public- and private-sector businesses and business-development organizations are expected to participate and learn from one another about existing business-development resources that can be discussed and shared to strengthen the Downeast economy. Those resources include business expertise from the University of Maine, according to Louis Bassano, UMaine Extension regional small business educator and UMaine Extension professor, who is coordinating the conference with Jim McConnon, a UMaine Extension business and economics specialist and UMaine professor of economics.
The conference, a governor's regional conference on small business and entrepreneurship, opens Thursday, Nov. 1 with a preconference business after-hours reception hosted by Hancock County's eight Chambers of Commerce from 5 p.m.–7 p.m. at the Ramada Inn at 215 High St. A full day follows at the Ramada on Friday, Nov. 2 with workshops, networking, panel discussions, exhibits and business assistance services.
Workshop topics include family and micro-business development, business planning, financial management, workforce development, human resources management and business regulations. Topics of local interest, including tourism, emerging trends in Hancock County, strategies for extending the tourism season, and why going "green" can be good for business also are on the schedule.
LePage is scheduled to deliver the keynote address at 8:45 a.m. Friday, after welcoming remarks at 8:30 a.m. Registration, which starts at 7:30 a.m., is $50 and includes a continental breakfast, lunch, snacks and conference materials. Participants can register in advance on a conference Web page.
"The overall goal of the conference is to provide opportunities for success for Hancock County's prospective and current small and micro-business owners," says McConnon. "The university is looking to strengthen connections with the business community."
"It's really an opportunity for business owners to tap into some of the university and other business-assist resources in the region," Bassano adds.
In addition to University of Maine Cooperative Extension, the Foster Center for Student Innovation and the School of Economics' Knowledge Transfer Alliance are two other UMaine programs participating in the conference. The College of the Atlantic, Husson University and the University of Maine at Augusta also are involved.
Bangor Savings Bank is the major sponsor for the event, assisted by the City of Ellsworth, the Maine Community Foundation and the Tri-County Work Force, which supports Hancock, Washington and Penobscot counties.
For additional details, including a complete list of event schedules, presenters and exhibitors, visit the conference website or call Tara Wood of UMaine Extension at 1-800-287-1542 (in state) or (207) 255-3345.
Contact: Tara Wood, 1-800-287-1542 instate or (207) 255-3345; George Manlove, (207) 581-3756