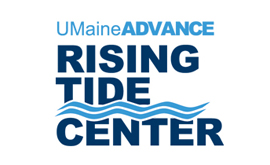 ADVANCE Rising Tide Center Announces 2012 Faculty Grants
The University of Maine's ADVANCE Rising Tide Center has announced its second round of grants aimed at fostering the professional development of UMaine female faculty members in engineering, mathematics, technology, and the physical, biological and social-behavioral sciences.
Twelve grants totaling $102,363 were awarded to UMaine faculty members in a range of academic fields in one of three granting categories: research seed, climate research and leadership development/personalized leadership institute.
Last year, the ADVANCE Rising Tide Center awarded $76,419 to UMaine faculty.
The Rising Tide Center was founded in 2010 with a five-year, $3.2 million ADVANCE Institutional Transformation grant from the National Science Foundation. The goal of the center is to increase the number of female faculty members in the STEM and SBS disciplines by defining the practices that attract and support the retention of female faculty, facilitate promotion through the academic ranks and to administrative positions, and provide professional satisfaction.
Susan Hunter, UMaine's senior vice president for academic affairs and provost, is a biology professor who serves as the principal investigator on the project. Three other current faculty members co-authored the ADVANCE grant: Amy Fried, associate professor of political science; Susan Gardner, associate professor of higher education; and Karen Horton, associate professor of mechanical engineering technology. Jody Jellison, former professor of molecular plant pathology and director of the School of Biology and Ecology, was also a co-author.
Ellie Groden, professor of entomology, has replaced Jellison on the team and administers the Rising Tide grants program.
The awarded grants are as follows:
Simmons School of Management Strategic Leadership for Women, Principal Investigator (PI): Amy Blackstone, Associate Professor and Chair, Department of Sociology
"The Mindful University," PI: Leslie Forstadt, Child and Family Development Specialist, University of Maine Cooperative Extension, Co-PI: Aileen Fortune, UMaine Extension Educator
"Zebrafish as a Model for Mast Cell Toxicology Studies," PI: Julie Gosse, Assistant Professor, Department of Molecular and Biomedical Sciences
"Individual-based Modeling Applications in Family Forests Research," PI: Jessica Leahy, Associate Professor of Human Dimensions of Natural Resources, School of Forest Resources
"Development of Bioinformatics Expertise as the Basis for a New Collaborative Research Program," PI: Jean MacRae, Associate Professor, Department of Civil and Environmental Engineering
"Who Shatters the Glass Ceiling? Understanding Women's Success in the Face of Sexism," PI: Shannon McCoy, Assistant Professor, Department of Psychology
"Effect of Iron-Oxidizing Bacteria on the Weathering Rate of Serpentinite Minerals," PI: Amanda Olsen, Assistant Professor, Department of Earth Sciences
"Nitrogen Dynamics in the Southern Hemisphere," PI: Jasmine Saros, Associate Professor of Paleoecology and Biological Sciences, School of Biology and Ecology and Climate Change Institute
"Novel Processing Method for an Alternative Aquaculture Species: A Pilot Investigation," PI: Denise Skonberg, Associate Professor, Department of Food Science and Human Nutrition
Bryn Mawr HERS Institute, PI: Kristin Sobolik, Professor of Anthropology and Climate Change, Department of Anthropology
"Collaborative Research on Arctic Paleoenvironmental Reconstruction," PI: Catherine West, Assistant Professor of Anthropology and Climate Change
'Effects of Cognitive Control on Cognitive Reappraisal Ability," PI: Lira Yoon, Assistant Professor, Department of Psychology
Contact: Ellie Groden, eleanor.groden@umit.maine.edu or (207) 581-2984; Jessica Bloch, jessica.bloch@umit.maine.edu or (207) 581-3777