Safeguarding a Vulnerable Watershed
Decision tools to support water resources sustainability of managed lake systems
Institutions: University of Maine, University of Southern Maine
Sponsor: National Science Foundation through the Sustainability Solutions Initiative
Sebago Lake is many things to many people: drinking water for about 200,000 Greater Portland residents, a place to play and a source of hydropower. This research team is working to create new tools to aid in planning and policy decisions to help safeguard Sebago's future.
Why This Project?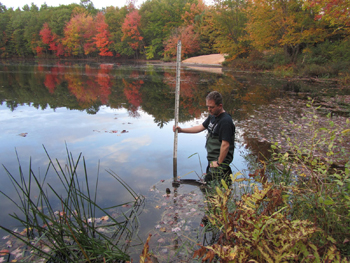 Sebago Lake is the third most vulnerable drinking water supply in the Northeast, due to development pressure on private forest land (Barnes et al. 2009). A major challenge is managing lake levels for competing demands while protecting water quality and habitat.
Diverse groups with conflicting interests influence policy for the entire watershed, yet they lack comprehensive, accessible information to help guide complex decisions. Lake managers and other stakeholders also must make decisions amid uncertainty about how changes in land use, dam operation and climate could affect Sebago in the future.
Connecting Knowledge with Action
The Sebago team is creating an interactive virtual watershed that will allow users to simulate how climate change and human activity ranging from developing land to manipulating water levels could affect Sebago Lake. This tool will allow users to evaluate the tradeoffs of various actions and build consensus on the most effective approaches for sustainably managing the watershed.
The virtual watershed, which synthesizes complex data gathered by the Sebago team and many other sources, will be available on the Internet and also will serve as an education and outreach tool.
– Barnes, M., A.Todd, L.Whitney, R.Lilja, and P.Barten. 2009. Forests, water and people: Drinking water supply and forest lands in the northeast and midwest United States, Tech. rep., United States Department of Agriculture Forest Service.
Team Members
Shaleen Jain, Civil & Environmental Engineering
Jean MacRae, Civil & Environmental Engineering
Firooza Pavri, Geography & Anthropology, USM
John Peckenham, Senator George J. Mitchell Center
Andrew Reeve, Earth and Climate Sciences
Sean Smith, Earth and Climate Sciences, Sustainability Solutions Initiative
Project Partners
Supported by National Science Foundation award EPS-0904155 to Maine EPSCoR at the University of Maine.