Integrated Assessment of Alternative Management Strategies for PFAS-contaminated Wastewater Residuals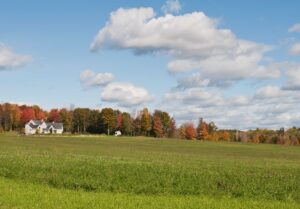 Institution: University of Maine
Sponsor: Water Resources Research Institute (104b) (2021)
An interdisciplinary research team examines the environmental, social and economic aspects of management options for PFAS, also known as "forever chemicals," in Maine.
Per- and polyfluoroalkyl substances (PFAS) are synthetic organic chemicals with a unique ability to repel both water and oil that are used in a range of consumer products from nonstick cookware to breathable rain gear and food packaging. Though PFAS have been in wide-ranging use since the late 1950s, it is only in the last 20 years that their toxicity has been well documented.
Because these chemicals do not break down, they eventually end up in municipal and industrial wastewater sent to treatment plants. During treatment, much of the PFAS are removed from the wastewater and become concentrated in the wastewater sludge, or residuals, that remain. While these residuals could be a beneficial source of nutrients and soil amendments for farm fields, the presence of toxic contaminants is an ongoing problem. In 2019, Maine updated the practices for allowing the land application of wastewater treatment plant sludge – where all residuals must meet criteria which includes specific screening levels for PFAS.
With this management option for wastewater residuals no longer available, the Maine Department of Environmental Protection (DEP) requested research assistance from the Mitchell Center for suggestions on how best to manage the PFAS-contaminated material.
An interdisciplinary research team is examining the environmental, social and economic consequences of a range of management options for PFAS-contaminated wastewater residuals. The team includes expertise in aquatic ecosystems, environmental engineering, wastewater management, economics and social science, and risk perception and decision-making.
The project will generate a survey of the general public's perception of risks from PFAS, original data on PFAS movement in landfill liner material, and a summary document comparing management alternatives for PFAS-contaminated wastewater residuals.
Project lead
Research Team
Project Partners
Resources