Perfect Dam Project
Ph.D. student Andrew Newcomb banks his future on the Future of Dams
By David Sims
Only months after completing his bachelor's degree at Colby College in Waterville, Maine, and fresh from a stint as a field technician for the National Aquatic Monitoring Center based in Utah, Andrew Newcomb had no immediate plans to pursue a post-graduate degree.
Until, that is, he got wind of a Ph.D. research assistant position at UMaine as part of the Mitchell Center-led Future of Dams project. It was a game changer.
"To be honest, I wasn't sure I wanted to go for a Ph.D. right away but when I read about this position I applied because it sounded ideal—studying dams and getting to do stream work," Newcomb says. He adds, "So I opted to go straight for the doctorate and bypass getting a master's degree, as had actually been recommended to me by one of my Colby professors."And in applying for the position, Newcomb was also bypassing the fact that he had little formal training or experience in what the Ph.D. work entailed—hydrologic modeling. He snared it anyway.
"I think I got it because my advisor, Sean Smith and others on the committee, were looking for someone who, rather than having a lot of engineering or hydrology experience, could demonstrate a proven capacity to learn those aspects and also had a well-rounded background in environmental science," Newcomb says.
Of course, Newcomb's freshwater lake and stream work experience—from his Colby capstone project working in the headwater streams of the Belgrade Lakes watershed to fieldwork throughout the western United States—likely tipped the scales in his favor.
"I believe I have a grasp on issues in the context of policy and ecology, a proven quantitative background, and at least enough geology and hydrology that I could learn from there," asserts Newcomb, now of the UMaine School of Earth and Climate Sciences.
In a nutshell, the Future of Dams work Newcomb will be doing involves investigation of the role of dams in the Penobscot River watershed and comparison of the research outcomes with dammed river networks in other New England settings.
"Hopefully, (this work) will provide some good insight into the decision making around whether we relicense these dams, upgrade them, or do anything at all."
—Andrew Newcomb
"The research approach will include spatial data analyses and hydrologic modeling to quantify the magnitude and rate of water flow moving through the river system at any given point," notes Smith, assistant professor at the School of Earth & Climate Sciences and the Mitchell Center.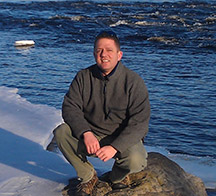 With a working model in hand, project researchers will be able to assess changes in river flow under a variety of scenarios: a dam constructed or removed at a certain point in the watershed; extended drought or heavy precipitation or whatever climate change vagaries might deliver. The results will establish a basis for putting the effects of dam operations or removals in context and evaluate tradeoffs and implications related to varied dam management strategies.
"Hopefully, that will provide some good insight into the decision making around whether we relicense these dams, upgrade them, or do anything at all," Newcomb says. "I think it will provide a much more holistic perspective on how much water is in the Penobscot and more detailed resolution of information on water flow, and a great capacity to predict that flow in the future."
And while the heavy mathematics involved in the modeling work—at least on the front end of things—has been challenging for Newcomb, he's already up to speed and has no regrets having chosen a liberal arts educational path. He maintains a strong desire to focus on "the human side of things" in his future scientific research.
Well rounded, well prepared
Newcomb believes a good mix of science and humanities and social science courses at Colby prepared him well for his work with the Future of Dams project.
"I feel like a lot of people, especially some engineers I've interacted with, just 'engineer' all the time. I'm really glad I was exposed to do a lot of different disciplines and topics at Colby and wasn't just at a computer all the time," Newcomb says. He adds, "I took policy classes, and cinema studies, and literature and I feel like I know how to write well and read well and think well. I just feel like that background set me up to deal effectively with all the obstacles and challenges that pop up when doing research."
Newcomb says he chose the environmental science path in college in part because his uncle, Josh Royte, works for the Maine chapter of The Nature Conservancy "and for as long as I remember I wanted to be like him" and also for reasons that had to do with scientific/environmental applications that "applied to the human world" such as matters of policy.
That said, he adds that there was definitely at least one point during his undergraduate career when he was first learning about modeling, thought it was great, and thought all he needed to do was modeling and not worry about the policy aspects anymore.
"But that's no longer the case—I grew up a bit since then," Newcomb says. "With the work I'm doing now, for example, I can see something actually happening. You can work for few years and publish a thesis or paper and have this fantastic model and great data, but just publishing in a prestigious journal doesn't necessarily change anything." He adds, "Which is why I like to be here and involved with the Mitchell Center and getting to apply what I accomplish."
Ironically, and unbeknown to Newcomb until he arrived at UMaine, his Colby senior capstone work with the Belgrade Regional Conservation Alliance—a local land/water trust—was made possible through Mitchell Center funding as part of the large National Science Foundation Sustainability Solutions Initiative grant that eventually evolved into the Senator George J. Mitchell Center for Sustainability Solutions.
"With the work I'm doing now I can see something actually happening. Which is why I like to be here and involved with the Mitchell Center and getting to apply what I accomplish."
—Andrew Newcomb
"The BRCA is this great organization that I'd worked with for two summers and I knew they were going to take our results seriously and that they had the capacity of stakeholder engagement necessary to apply the science to change things," Newcomb says. "They were able to get a lot of things done because they had everyone in the community engaged, and they also do a great job of communicating the science to their members."
All of which is at the heart of the Mitchell Center's mission.
"When I was applying for this position, the Mitchell Center, which I was not familiar with at the time, sounded like a place that liked to take all different sorts of perspectives and skills and put them in the same room to see if that's a good way to solve problems," Newcomb says. Moreover, he adds, there's an emphasis on the methodology of problem solving and figuring out the best way for a team to communicate among themselves and communicate the sustainability issues to others less familiar with the work.
"That's not an alien concept to me but it's something I've never participated in and it makes perfect sense, and I'm really looking forward to being part of that process."