Kalina Kinyon: Seeking solutions to Maine's food waste challenges
This UMaine sophomore environmental science major with a minor in economics works with stakeholders to raise awareness and inspire action on food waste.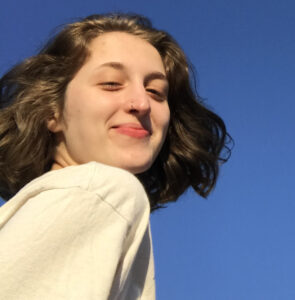 Why are you interested in food waste and/or sustainable solutions?
My concentration is in sustainability and I saw this internship as a great opportunity to gain experience within the field.
How did you get involved in the Mitchell Center food waste project?
I received an email from the Ecology & Environmental Sciences coordinator about this internship opportunity. I thought Food Rescue MAINE sounded interesting and applied.
What do you feel are the most important academic or personal skills that you bring to your multidisciplinary student research team?
I think I bring a creative, organized, and enthusiastic approach to Food Rescue MAINE. From having great interest in sustainability to a minor in economics, I am able to have a deep understanding of the necessities of reducing food waste. However, from my own personal skills, I am able to bring excitement to the team as well.
What are the most important things that you are learning through your participation on this project?
I think I've learned a lot of great skills including the ability to engage with stakeholders, how to hold a position of leadership, and how to engage and interact with information I may not be accustomed to.
How is working on this project enriching your studies, or vice versa?
I think this project goes hand in hand with my studies. I get real-world experience with sustainability work and can enact what I learn into my classes.
How do you like to spend your free time?
I like to go hiking, bake cookies, and paint.