Talk – Tick, Talk: Integrating biological and social science research to address ticks and Lyme disease in Maine
March 2, 2020 @ 3:00 pm

-

4:00 pm

|

Free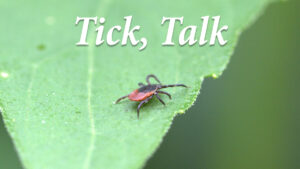 Speaker: Carly Sponarski, Assistant Professor, Dept. of Wildlife, Fisheries & Conservation Biology, Faculty Fellow, Mitchell Center for Sustainability Solutions
Resilient agroecosystems have both healthy forests and healthy forest workers. This study will integrate natural and social science research, extension, and education to develop and test adaptive land management practices to protect private forest landowners, foresters, and loggers against exposure to tick-borne disease (TBD) and to manage the spread and persistence of TBD in the forest landscape. Due to climate change, Maine has experienced a five-fold increase in incidence of Lyme disease over the past decade, providing an urgent need and a unique socio-ecological context to investigate the effects of forest management on infectious disease transmission. Forest workers are at particularly high risk of contracting TBD due to their high occupational exposure to ticks and low perceptions of TBD risk. We are conducting applied ecological research to understand the impact of timber harvesting on risk of exposure to TBD and the causal mechanisms underlying observed patterns. We are conducting applied social science research to understand the economic, environmental, and production factors that influence private forest landowners' decision-making processes related to land management and TBD prevention. We recently started our second year of this three year project. These results will be used to inform practical recommendations to mitigate the impacts of climate change on TBD transmission that are based on scientific data and compatible with landowners' economic interests.
Carly Sponarski joined the Department of Wildlife, Fisheries, and Conservation Biology in August 2016. Prior to moving to Orono, Dr. Sponarski was a postdoctoral scholar in Dr. Nicole Ardoin's Social Ecology lab at Stanford University. She obtained her PhD from Memorial University of Newfoundland in St. John's, Canada, in Natural Resource Management within the Geography Department; a M.E.Des (Environmental Science) from the University of Calgary in the Faculty of Environmental Design; and a BSc in Animal Biology from the University of British Columbia.
Dr. Sponarski's research interests focus on the intersection of human (social systems) and natural resources (ecological systems), thus her work is interdisciplinary in nature. At this intersection, she examines the social impacts of resource management – the community interactions, associated conflicts, and decision-making. This research is called, human dimensions of natural resources and she focuses on wildlife and fisheries management issues. Dr. Sponarski is interested in understanding future management directives/objectives, current management strengths/weaknesses, and public opinion towards difference species and management actions.
Related Events