PFAS and Produce: An Annual Symposium on Agriculture Approaches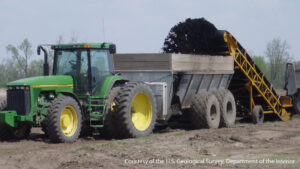 By Sarah Delmonte
On October 22-24, the Michigan State University Center for PFAS Research will hold their second annual symposium. The title of this symposium is PFAS: Current Knowledge and Applications for Food Production. Attendees from multiple backgrounds plan to participate, including farmers, students, scientists, and public and private industry professionals. The conference will provide a space for the discussion of PFAS in an agricultural setting, recent discoveries and research about the effects of PFAS, and policies centered around the management of PFAS in the environment.
PFAS, or "forever chemicals", are chemicals that are found in many products around the world that do not break down easily. Because of this, they remain in the environment for long periods of time and contaminate water, soil, and food. These chemicals are linked to health issues such as immune system disorders, cancer, and thyroid hormone disruption.
This year's symposium is the result of a collaboration between Michigan State University, Maine Farmland Trust, the United States Department of Agriculture Research Service, and the University of Maine.
Caroline Noblet, an associate professor in the University of Maine's School of Economics and Mitchell Center faculty fellow, helped to organize the October symposium. Noblet is a behavioral environmental economist who works to analyze how people process risk and decision-making in relation to the environment. She is participating in several interdisciplinary research studies on PFAS with the Mitchell Center, including one developing a risk framework for management of PFAS in rural areas and another researching alternative management strategies for PFAS-contaminated wastewater residuals.
"The conferences are an opportunity to bring together people who have been impacted in this area," Noblet said in an interview. "Maine and Michigan are two states that have been very proactive about PFAS in their environment, and so it is an opportunity to bring together researchers, impacted farmers, and state and federal agency decision makers to collaborate."
According to Noblet, the most important facts to know when dealing with PFAS is that we are learning more about them constantly and that Maine continues to investigate these 'forever chemicals' from multiple perspectives.
"When other states start addressing PFAS, they won't have to do too much work because there will already be a blueprint. Everything that is happening in Maine is happening in other states."
Following the first symposium, a regional conference will be held for stakeholders and researchers in early November. The purpose of the regional conference will be to look at PFAS from a more local perspective.
Sarah Delmonte is a Communications Intern with the Mitchell Center. Sarah is a senior undergraduate student majoring in English with a minor in Journalism.