New co-authored publication on 'Collaboration on the Mudflats'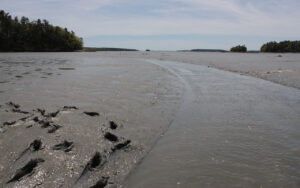 Mitchell Center researchers co-authored an article for Issues in Science and Technology on how community-university partnerships can strengthen deliberative and democratic practices.
"The guiding frame for this essay—community-university partnerships—may suggest that these partnerships tend to occur in formal, easily-identifiable spaces where community members participate in a project led by the university, or vice versa, with a clearly defined objective, timeline, and set of partners. In reality, a lot of our work occurs in places where the boundaries for when the effort started, who is involved, where and how participants meet, and even what participants are trying to achieve are not clear, singular, or easily definable."
The article was written by David Hart, director of the Mitchell Center; Bridie McGreavy, associate professor in the Dept. of Communication and Journalism; Anthony Sutton, assistant professor of Native American Studies and Food Systems; Gabrielle Hillyer, Ph.D. candidate in ecology and environmental sciences in the NRT Conservation Science Program; and Darren Ranco, chair of Native American Programs, professor of anthropology.