Study on lobster industry resilience cited in NPR story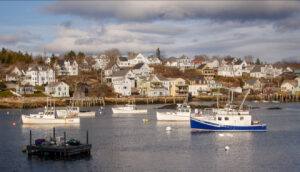 National Public Radio cited a study of resilience in the Maine lobster fishery in a recent story about changes in the industry that will also impact the communities that depend on it.
The study, Fishing in Hot Water: Defining Sentinel Indicators of Resilience in the American Lobster Fishery, is led by Mitchell Center Faculty Fellow Joshua Stoll in partnership with representatives from the Maine Lobstermen's Association, Maine Center for Coastal Fisheries, Maine Department of Marine Resources, UMaine's Lobster Institute and the National Marine Fisheries Service.
The Maine lobster fishery is among the most valuable commercial fisheries in the United States and supports thousands of jobs in coastal communities across the state. Yet it also faces serious challenges related to climate change, trade and marine mammal entanglement. Researchers are developing "sentinel" indicators of resilience for the industry that can be used to detect early signs of vulnerability.
Funding for the research was provided by the Mitchell Center and NOAA National Sea Grant's American Lobster Initiative.
The NPR segment, "Maine's Next Generation of Lobstermen Brace for Unprecedented Change," aired on September 19 and also on Weekend Edition Sunday.