Mitchell Center researchers examine options for managing PFAS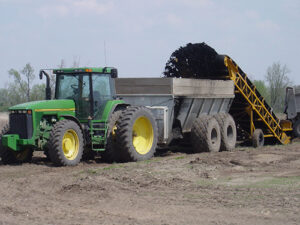 A June 2 article in UMaine News focuses on the work of Mitchell Center researchers who are helping identify sources of and management strategies for per- and polyfluoroalkyl substances (PFAS).
In response to concerns raised by many different stakeholders, the interdisciplinary team of scientists is gathering and documenting knowledge of where PFAS are in Maine and how they move through soil, water, wildlife and food. Researchers also are developing an understanding of how PFAS, also known as "forever chemicals," end up in wastewater residuals — organic materials and solids that are removed during wastewater treatment — and how they are currently managed. They will then analyze and report on options for managing residuals while reducing the risks associated with PFAS and protecting Maine's waters and lands.
The project team also is meeting with public health advocates, representatives from the wastewater treatment industry and agriculture sector, and experts from state government to increase their understanding of concerns from the various stakeholders. The team is applying for federal funding to expand this work.
Dianne Kopec, Mitchell Center faculty fellow and adjunct professor in the UMaine Department of Wildlife, Fisheries and Conservation Biology, is leading the group. Other participants include Jean MacRae, an associate professor of environmental engineering; Caroline Noblet, associate professor in the School of Economics; Onur Apul, assistant professor and environmental engineer in the Department of Civil and Environmental Engineering; and John Peckenham, a research associate with the Mitchell Center.