UMaine shellfish study highlights changes in the Damariscotta River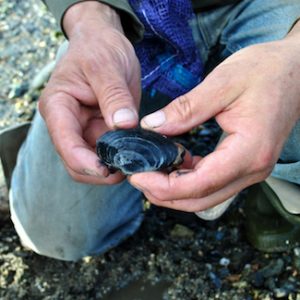 Full article available: Darling Marine Center's web site
A recent study led by Kara Pellowe from the Darling Marine Center (DMC) conducted shellfish surveys in five locations in the upper estuary of the Damariscotta River between June and August 2019.
With a grant from the Broad Reach Fund and in-kind support from Damariscotta and Newcastle shellfish committee members, the research team at the Darling Marine Center counted the soft-shell clams, quahogs, razor clams, mussels and oysters living in the intertidal flats managed by the two towns. Pellowe's adviser, DMC director Heather Leslie, a resident of Newcastle, serves on the Joint Shellfish Committee.
This project is part of the Maine Shellfish Restoration and Resilience Project which provides support for small-scale fisheries, including clams and mussels, and is funded by the Broad Reach Fund. Bridie McGreavy helps lead this initiative.
Other Shellfish Research Information: