Keynote Speaker
The Science of When Science Doesn't Matter (and what to do about it)
by Dr. John M. Hagan
An audio recording and a copy of the Power Point presentation from the keynote address are available from the links below.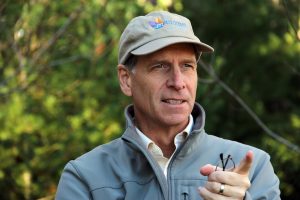 Why does society make such painfully slow progress on issues that have such huge consequences, like climate change? The science is overwhelming. But until most of society participates, problems this big won't be solved. Conservatives, liberals, North, South, urban, rural, religious, areligious, etc., etc., will all need to participate. Engaging such diverse segments of society is a huge challenge in an era of extreme polarization. But it can be done, if scientists will use their empathic right brains in addition to their linear-thinking left brains.
John M. Hagan is an ecologist, and President of Manomet, a non-profit based in Brunswick, Maine and Manomet, Massachusetts. His work has focused on building relationship with non-scientists who are in a strong position to put science to use—foresters, fishermen, business owners, and even institutional investors.