Staff Profile
NIVES DAL BO-WHEELER, Director

I am excited to be helping students channel their academic strengths toward high achievement and lay the foundation for a successful career.
As a student, I have benefited from scholarships which have enhanced my academic experiences and brought me to new places.
I highly encourage you to do the same!
Professional expertise: Student services, student success, higher education
Scholarships received: Erasmus in Berlin, exchange Scholarship with UC Santa Cruz  (both as a student at the University of Venice)
Languages Spoken: English, Italian, German and French
Traveled to: Italy, Germany, Austria, France, Spain, Portugal, England, Belgium, Luxembourg, Croatia, Canada, U.S. and Puerto Rico
Lived in: Cimetta, Venice, Munich, Berlin, Palo Alto, Cambridge (MA), Perugia and Orono
Katrina Webster, Graduate Assistant
(she/her), oms.ga@maine.edu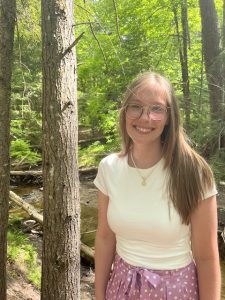 I am currently a student in the Department of Anthropology pursuing my Masters in Anthropology and Environmental Policy. I hope to broaden my understanding of the ways in which human livelihoods, cultures, and health are linked to the natural world. It's my goal to explore ways to implement nature-based solutions and garner support for policies that achieve better public health outcomes.
As a first-generation college student, I have relied heavily on scholarships to fund my education and support my research projects. For that reason, I am incredibly passionate about helping students secure funding to pursue their academic and career goals.
I look forward to meeting with you and exploring upcoming scholarship opportunities!