Staff Profile
NIVES DAL BO-WHEELER, Director

I am excited to be helping students channel their academic strengths toward high achievement and lay the foundation for a successful career.
As a student, I have benefited from scholarships which have enhanced my academic experiences and brought me to new places.
I highly encourage you to do the same!
Professional expertise: Student services, student success, higher education
Scholarships received: Erasmus in Berlin, exchange Scholarship with UC Santa Cruz  (both as a student at the University of Venice)
Languages Spoken: English, Italian, German and French
Traveled to: Italy, Germany, Austria, France, Spain, Portugal, England, Belgium, Luxembourg, Croatia, Canada, U.S. and Puerto Rico
Lived in: Cimetta, Venice, Munich, Berlin, Palo Alto, Cambridge (MA), Perugia and Orono
Katrina Webster, Graduate Assistant
(she/her), oms.ga@maine.edu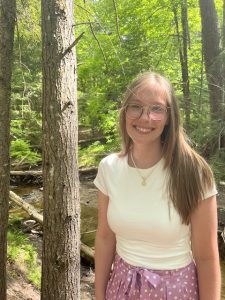 I am currently a student in the Department of Anthropology pursuing my Masters in Anthropology and Environmental Policy. While my research has ties to environmental justice and protected areas, I'm hoping to further explore the impacts of neoliberal conservation on human and more-than-human populations. 
As a first-generation college student, I have relied on scholarships to fund my education and support my research projects. For that reason, I am incredibly passionate about helping students secure funding to pursue their academic and career goals.
I look forward to meeting with you and exploring upcoming scholarship opportunities!
Alyssa Castle, Graduate Assistant
alyssa.castle@maine.edu
I am currently a PhD student in the Biochemistry and Molecular Biology department. I received my bachelor's degree at Utica College, with a major in biology and chemistry and my master's degree at the University of Nebraska Medical Center in biochemistry and molecular biology.
As a student that has been through a variety of academic settings, I believe it is important for students to be aware of the different funding opportunities that are available so that they can be taken advantage of.
I look forward to helping other graduate students!