Write Here, Write Now Draws Educators from Across Maine
On October 25th, more than 100 Maine educators gathered in Lewiston for "Write Here, Write Now," a conference devoted to writing across the curriculum and hosted by the National Writing Projects of Maine.
Twenty-four teacher-consultants of the Maine and Southern Maine Writing Projects presented workshops on a variety of topics, including Multigenre Writing, Writing in Elementary Science, Matching Writing Objectives to the Common Core, Digital Portfolios, and Building a Student-Staffed Writing Center.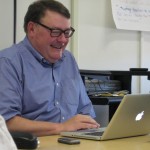 The day was a successful opportunity for Writing Project members and other educators to renew friendships as well as their teaching spirits.  More pictures from this collegial day can be found at our Maine Writing Project Facebook page.
Thank you to all who presented and attended, and for all who continue to support the Maine Writing Project.