Young Authors Visit 2011 Fellows
The Young Authors paid a visit to the 2011 Fellows last week to share their writing. With prison dramas, haikus, ninja wolves, and six word memoirs the campers wowed the fellows with their creativity and literate use of language.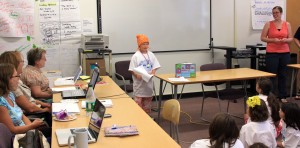 After the opening moments, campers paired up with a fellow for some sharing and feedback. They used the fellows' technique of PPQ – Praise, Polish and Question – to guide their time together. Fellows and campers alike took something positive from the experience having learned something form each other about their writing life.
I think I learned more about writing and teaching writing from that little girl than I did my four years in college.   -2011 Fellow
Campers and fellows share and discuss their writing.