Q&A with Linda Dorn, director of the National Partnerships in Comprehensive Literacy Model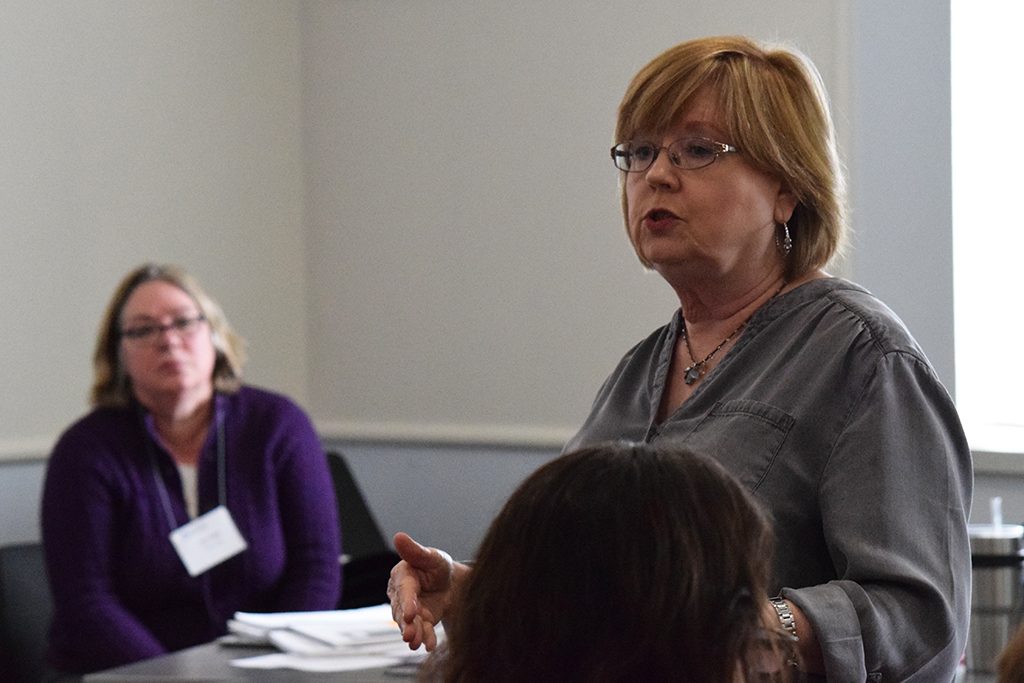 The University Training Center for Reading Recovery and Maine Partnerships in Comprehensive Literacy hosted more than 60 literacy coaches, Reading Recovery teacher leaders, and school administrators from across the state this week for a presentation by Linda Dorn, Professor of Reading Education at University of Arkansas at Little Rock.
Professor Dorn is director of the National Partnerships in Comprehensive Literacy Model, a program designed to promote school-wide improvements in achievement through leadership teams literacy coaches trained to work with classroom teachers on best practices. The University of Maine is one of eight universities involved in the national partnership. Currently, UMaine provides literacy coach training to 28 school districts throughout the state.
What follows is an interview (edited for length and clarity) with Professor Dorn about the comprehensive literacy model and her presentation to Maine teachers.
For people who aren't familiar with it, can you describe the comprehensive literacy model?
It's a systemic design for continuous school improvement, and in that comprehensive design we use trained literacy coaches, who become agents of school change. They work with classroom teachers in developing evidence-based literacy practices using an integrated workshop approach. Then the teachers design other types of professional learning experiences across the school. We call it a systemic design because it is meant to create change at the school-wide level. So the coaches work with literacy teams within the school and pull all the teachers together to look across grade levels at best practices. Plus, they collaborate with intervention teachers, Reading Recovery teachers, and Comprehensive Intervention Model teachers within the school to provide evidence-based literacy curriculum for all children.
At the University of Maine we have the University Training Center for Reading Recovery and Maine Partnerships in Comprehensive Literacy. Can you talk about how all the various parts of the model work together?
You have a really complex design here in that you have two Reading Recovery trainers, Mary Rosser and Lori Taylor, who work with Reading Recovery teacher leaders and Reading Recovery teachers in training them in the one-on-one model, as well as small group reading interventions. Then you have Marcia (Nye Boody), literacy coach trainer, as well as Debra (Hogate), who trains the literacy coaches in the comprehensive literacy model. Then the literacy coaches train the classroom coaches. So you have trainers training trainers—the university personnel train the literacy coaches, who then train the classroom teachers and the intervention teachers, who work with the students. It's all interrelated, and because of it being a comprehensive design and a systemic design to promote continuous school improvement, you've got to have all of those levels. Everyone works together to lift the school.
So what's the benefit to schools in terms of providing that training and support to teachers?
The first benefit is increasing student achievement. When you have an evidence-based classroom model, plus an evidence-based intervention model such as Reading Recovery and Comprehensive Intervention, that is going to increase the literacy achievement of the students. But it also has such a heavy emphasis on developing teacher expertise. So the coach is able to work with the classroom teacher to help her continually refine her knowledge. There's a strong relationship between teacher expertise and student achievement, so the whole school becomes transformed. It not only influences the students' achievement, but it promotes collaboration and professional growth amongst teachers when they come together and learn from one another. Teachers have opportunities to go into other classrooms and observe teaching and learning. That in turn increases teacher morale and motivation. And all of that just gets down to what it's all about, ultimately, is the kids.
What are some of the specific methods that you advise coaches and teachers to use to, as you say, raise student achievement in literacy?
We spent today talking about an integrated design of teaching and learning, which is a critical piece of the whole model. What have we learned from decades and decades of empirical research that says, this is the way classrooms should look, these are the evidence-based practices that all classrooms should have in place that impact student achievement. We also watch really closely to see, what does a teacher do when she's working with a group of students. How is she helping kids build the background knowledge they need in order to comprehend what a particular text is about? How does she work with them to develop flexible strategies for when they run into problems? How does she link what they're doing in reading to what they need to be doing in writing? It's all those literacy instruction practices that have proven over time this is what classroom teachers should be doing. So University of Maine is a research university, as is my university. So we really don't do anything just because we think it's a good idea. We do what we do because the research shows that it works.
So what's the 30-second version of the presentation you did today?
[Laughs]. Sure. It was mostly about how teachers can integrate their classroom curriculum to not only include language, reading and writing experiences, but also science and other content areas within this integrated workshop framework, so that they build kids' background knowledge, and help kids acquire really flexible strategies for problem solving. And we spent today talking about that through the coaching lens. So they had to think about what would you do as a coach, as a leader, to help your teachers implement these practices.