Think College Offers Resources for Families and Education Professionals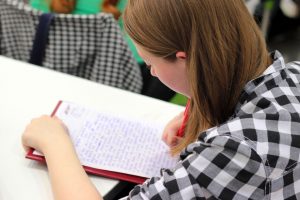 Are you or your family member on the autism spectrum considering college or currently pursuing college life? Are you an educator supporting students in this endeavor, or a faculty member with a student with autism or other intellectual disabilities (IDD) in your classroom? If you are looking for information, support, training, or resources to guide you in this transition or in using best practices to support college students with IDD, then you should consider checking out Think College.
Think College is a national organization located within the Institute for Community Inclusion at UMass, Boston that offers both online resources and technical support for individuals with IDD, including those on the autism spectrum, and their families, in exploring and/or pursuing the transition to college and college life. Think College also offers individualized technical assistance to individuals and families through their Help Desk and the National Coordinating Center Technical Assistance Providers.
Online resources address questions such as:
Is College possible?
How to prepare and how to apply;
Can I afford it?
Finding the right college, and
The differences you can expect between college and high school.
The Think College website also includes an online College Search Directory on the many college programs across the U.S. for students with intellectual disabilities. Visitors can search by program, location, or keywords.
Educators and college faculty can access Think College for technical assistance and online trainings to assist you in supporting students with intellectual disabilities. Training modules and webinars include Universal Design for Learning (UDL), coaching and mentoring college students with IDD, and the roles and responsibilities of campus disability services. Think College staff also offer research summits each year offering an in-depth look at the research related to higher education, employment, and transition.
Think College is an expansive resource for both families and for educators and faculty, and as a national organization is dedicated "to developing, expanding, and improving inclusive higher education options for people with intellectual disability."
Visit Think College at its website: thinkcollege.net/
Or contact them by phone (617) 287-4300 or email: thinkcollege@umb.edu