2019 March MAIER Family Partnership News
Hello from the MAIER family partnership!
We wanted to alert you to these upcoming FREE events especially for parents and caregivers, and to tell you about a fun family event hosted by one of our MFP families. Also, check out the information on new resources available from MAIER below.
Join us for these April Events!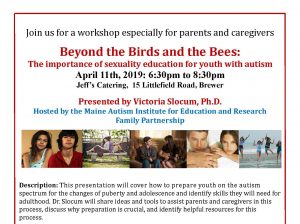 This is a FREE workshop for parents and caregivers of youth with autism spectrum disorders. Space is limited, so Register online  or contact Donna at MAIER by email: donna.doherty@maine.edu  or phone: 207-581-2468  to save your seat!
Documentary Showing of "Extraordinary People" on the UMaine campus,
Tuesday, April 2 at 6:30 pm.  (D.P. Corbett Hall, Room 115).
MAIER is partnering with the Autism Society of Maine (ASM) to present the Documentary "Extraordinary People" on the UMaine campus Tuesday, April 2 at 6:30 pm. "Extraordinary People is a 35 minute documentary film that tells the story of six adults across the autism spectrum, who, despite individual challenges, have found meaningful value and a deep sense of pride from their work at a business called Extraordinary Ventures.  This film will be followed by a panel discussion.  FMI about the film, visit the film's website. This event is free but registration with the ASM is requested.  Email : tara@asmonline.org or Call 1-800-273-5200 to register.
Autism Awareness Fun Day April 6th, 12-3 pm, at "The Pitch" in Warren.
This event is hosted by "Outside the Box" non-profit, spearheaded by one of our MFP families! Join them for fun and games, as well as autism information and resources.  Help them raise money for local autism groups at their silent auction of awesome donations from local businesses. FMI check our Community Calendar
Bookmark MAIER's Community Calendar for the most up-to-date event information
New Resources 
MAIER staff has developed a new fact sheet to help raise awareness and understanding of members of our communities on the autism spectrum. This one page, colorful handout is suitable for the general public, and is a great opening for discussion with extended families, friends, and community members. Share with your scout leaders, coaches, church group, and others to help them better understand the unique challenges and strengths your family member brings to their community. Download from our website,  or contact MAIER for copies for using with special events.
Also available: Our newly updated and revised Maine Parent Guide to Autism Spectrum Disorders (2018), includes new content and a new volume addressing teen and adult issues, narratives, and resources. Learn more about the 2018 edition, including how to order your own copy, here. 
Best wishes to you and your family,
Donna
Donna Doherty
MAIER Family Partnership Director