MAIER PD Series: PBIS and ASD: Universal Design for Learning
November 10, 2016
|
$30
Event Navigation
Speaker:  Katie Novak, Ed.D., Educational Consultant and Shoshana Green, M.Ed.
Sessions begin at 9am and end by 3:30pm. Sign-in begins at 8:30am.
Keeley's Banquet Center, Portland, Maine
Register online using our online form.
For those unable to attend in person, MAIER PD is now available to Live Stream or to view at a later time in our PD Archives! Same low cost to register. FMI view PD page.
Session Description: The brain research is compelling, the premise, career changing, but what does it feel like to be a learner in a UDL classroom? Come find out! In this universally designed workshop, educators will experience the power of engagement. By using analogies, concrete examples, and numerous opportunities for participants to personalize their learning, Dr. Novak, an internationally recognized expert on UDL, and Ms. Green, a practicing special educator, help to translate UDL theory to practice so all educators leave the workshop with an action plan, numerous resources, and a network of colleagues to support their journey.
Throughout the presentation, participants will receive concrete tips to help them implement UDL in their own learning environments to foster engagement in all students. This is a perfect workshop if you want to learn why UDL is critical to improve the outcome of students, learn exactly what the framework is and is not, and most importantly, how to begin to implement the framework immediately to foster self-direction, creativity, and success in all students.
Recommended Advance Reading: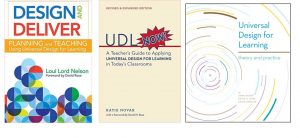 Design and Deliver: Available on Amazon
UDL Now: Available on Amazon
Universal Design for Learning: Free to download here

Katie Novak is currently the Assistant Superintendent of the Groton-Dunstable Regional School District. With 14 years of experience in teaching and administration and an earned doctorate in curriculum and teaching, Katie designs and presents workshops both nationally and internationally focusing on teacher implementation of Universal Design for Learning (UDL), multi-tiered systems of support, and next generation skills.
Shoshana Green is a special education teacher who is currently co-teaching an integrated third grade classroom. She earned her Master's of Education at Lesley University in Cambridge, and is certified in Moderate Disabilities grades K-8. Shoshana has ten years of experience in both pull out and inclusion services in a resource setting. As a co-teacher, Shoshana designs and delivers curriculum and instruction using Universal Design for Learning (UDL) to meet the needs of her students. Her years of experience, knowledge about special education students, and her keen sense of humor make her a fantastic resource for teachers who want to know how to use UDL to meet the needs of special education students.
For more information about MAIER Professional Development Series click here