More About Roger Clapp Greenhouses
The Lyle E. Littlefield Ornamentals Trial Garden & the Roger Clapp Greenhouses, the University of Maine's horticultural research facilities, are located on the University of Maine campus.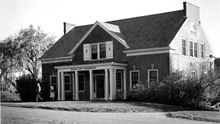 The greenhouses provide space for research projects in horticulture, sustainable agriculture, forest ecosystem science, and entomology. Research at UMaine's horticultural facilities is of significant benefit to Maine's environmental horticulture industry. The facilities also give UMaine students opportunities to gain valuable hands-on experience in designing, construction, and maintenance of landscape spaces.
History of Roger Clapp Greenhouses
The first greenhouse was built in 1924 as a floriculture lab. The second greenhouse and brick building followed in 1928. The greenhouse housed ground beds for vegetables. The brick building contained research lab and classroom space, office space and caretakers quarters. Since 1980 the building has housed classroom, lab, and office space. Greenhouse three was built by the Maine Agricultural Experiment Station in 1932 for experiments in plant breeding, physiology and pathology. Extensive renovations were undertaken in 1977. In 1980 they were renamed and dedicated to Roger Clapp, Professor of Horticulture and Landscape Design.