UMaine's Phi Beta Kappa chapter gears up for 100th class of inductees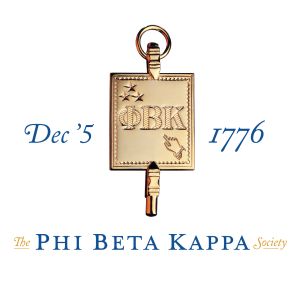 The University of Maine chapter of Phi Beta Kappa will soon mark an auspicious milestone.
This April, PBK's Delta Chapter of Maine will induct their 100th anniversary class. The chapter was initially approved in 1922, with the first class inducted the following spring. Hitting the century mark is a significant benchmark, one that the UMaine cohort looks forward to celebrating.
The induction ceremony will take place on April 27 from 4-5:30 PM at the Buchanan Alumni House. University of Maine President Joan Ferrini-Mundy and Provost John Volin will offer words of welcome; additionally, Amy Mulnix, Interim Associate Secretary and Chief Operating Officer of Phi Beta Kappa's national office, is scheduled to speak.
"There's lots of excitement around the event," said Timothy Cole, associate dean of the College of Liberal Arts and Sciences and PBK's Delta Maine Chapter president.
Founded at William & Mary in 1776, Phi Beta Kappa is one of the country's most prestigious academic honor societies. Approximately 10% of the colleges and universities in the country host chapters, with PBK adding new ones on a triennial basis. As of 2021, the last time chapters were added, there were 293 schools on that prestigious list.
Membership is extremely selective within those chapters as well, with just the top 10% of a school's liberal arts and sciences juniors and seniors qualifying for selection. Those chosen will join a list of more than half-a-million fellow PBK members as part of one of the country's oldest and most venerated academic cohorts.
The Delta Maine chapter is the only public university chapter in the state and one of the 100 oldest in the entire Phi Beta Kappa organization. To reach this level of longevity requires a generational commitment; UMaine's students, staff and faculty have spent a century rising to the challenge inherent to that commitment.
The significance of a 100-year run is not lost on Cole, even as Delta Maine enters into its second century..
"A centennial is a great opportunity to reflect on our chapter's origins," he said. "At the same time, this year's initiates display the same commitment to the core values of a liberal education that animates every PBK chapter. So we're celebrating the continued essential vitality of PBK here at UMaine."
Of the invitees for induction, Cole is expecting 30-35 to attend the event, though attendance at the ceremony is not required for membership. However, it does offer an opportunity to commemorate a major achievement by some singularly exceptional students, as well as grant membership into one of the most recognizable and respected academic honor societies in the country.
"I want to make sure the word is out," Cole said. "This is a pretty big deal and we should celebrate it."