CLAS Honors 2020 Outstanding Graduating Seniors
The College of Liberal Arts and Sciences is pleased to recognize the accomplishments of its senior departmental award winners for 2020—those students whose names were put forward for consideration as the College of Liberal Arts and Sciences Outstanding Graduating Senior, which was awarded this year to Cormac Coyle (Lebanon, NH). Brittany Kucera (Toronto, Ontario, Canada), a double major in anthropology and history, was named the College's Outstanding Graduating International Student.
Award winners, by department, included:
Art
Olivia Bradstreet is the outstanding senior in the Department of Art. Olivia is an Honors student, majoring in Studio Art and minoring in Art History. She has excelled in both her creative work and her scholarly writing. She brings a deeply considered ethical sensibility to her work, and to the classrooms and studios where she shares her ideas. Her honors thesis was an ambitious exploration of what it means to be an artist, specifically what it means to work in the space between personal experience and public narratives. She's moving to New Mexico and we wish her every success!
School of Performing Arts (Division of Theatre)
Reed Davis found a passion for stage management in the UMaine theatre program. He has taken on the stage management of plays, musicals, and dance showcases with incredible intelligence and calm in the face of high stress situations. The theatre faculty are looking forward to hearing about Reed's continuing journey, and we are proud to call him a colleague. 
School of Performing Arts (Division of Music)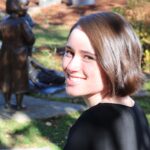 Micaela Ellis is the outstanding senior from the Division of Music. She is an excellent scholar and musician who was chosen to be the first tutor in the Division of Music's newly established student tutoring program. In this role, she has provided conscientious and capable leadership. Micaela has also served as the Assistant Conductor for the Bangor Area Youth Choir under the direction of Webb Parker. She was a member of University Singers for three years, and also participated in Collegiate Chorale. During the Spring 2020 semester, Micaela has been a student teacher in Hampden and Winterport.
Sociology
Jessica (Jessie) Sweeney is a senior sociology major with a concentration in Crime, Law, and Justice. Her thesis as a member of our Honors College concerns anti-Semitism and involves interviews with members of the local Jewish congregations. Last summer Jessie was accepted into the prestigious Honors Program of the American Sociological Association in national competition. She will begin the next stage of her academic career this fall at the University of Maryland Francis King Carey School of Law. We would like to note that Jessie recently established the John W. Sweeney Grant program through Bangor's St. Joseph's Hospital to honor her father who passed away nearly three years ago. This annual grant provides funds to families who are experiencing the loss of a loved one in order to help them mitigate the costs associated with this loss. The Sociology Department considers Jessie to be an incredibly promising student, rising young professional, and future change agent, and it has been our privilege to know her.
Political Science
Jamison Rhoads-Doyle is the outstanding senior from political science. Jamison was a truly superlative student in all aspects. He was an exemplary student, in nearly every course scoring at the top of the class in each mode of evaluation (exams, recitations, research papers, etc.). He consistently displayed every trait making for scholastic and professional success: punctuality, reliability, and earnest conscientiousness about his work. As an alumnus, he will be a shining credit to the University of Maine.
Chemistry
David Howe, the outstanding senior in chemistry, is an exceptionally gifted scientist; he is very inquisitive and has a keen insight for experimental discovery. He is also a skilled writer and speaker, who is capable of presenting alternative viewpoints and developing his arguments with clarity and conviction. David's innate abilities, coupled with his hard work, dedication and his leadership attributes will result in him being a "star" in whatever career he pursues. He will be an exceptional ambassador for the College and the University of Maine.
Anthropology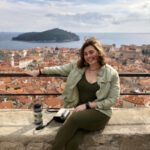 Lilja Bernheim, outstanding senior in anthropology, is an Honors College student double majoring in Anthropology and Human Dimensions of Climate Change, with a minor in Native American Studies. She completed two international programs in Croatia – an archaeological field study in Zadar during the summer of 2018, and a semester length program in Dubrovnik during the spring of 2019. These experiences laid the foundation for her honors thesis, which examines the effects of climate change on cultural heritage along Croatia's Dalmatian coast.
Philosophy
Cormac Coyle, the outstanding senior in philosophy and the Outstanding Graduating Senior for the College of Liberal Arts and Sciences, shines in the philosophy department, in his double major in French and in the Honors College. Cormac's dedication and excellence in his philosophy coursework pours over into his commitment to praxis in the community. He has been a community-shaping force in the department as an executive member of the Philosophy Club, a regular participant in Philosophy Across the Ages, and as Vice President and now President of the Maine Peace Action Committee.
Women's, Gender and Sexuality Studies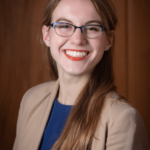 Taylor Cray is the outstanding student in women's, gender and sexuality studies. Taylor engages so deeply in the intellectual work of her studies that it seeps into her bones and she carries it with her wherever she goes. The theories and frameworks that she studies are not just books and manuscripts she reads but are the lenses through which she sees the world. She is a changed person because of her engagement in her fields of study and, likewise, she changes her fields of study because of her engagement in them. She is truly an intellectual.
Psychology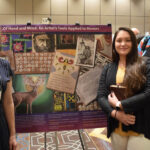 Raegan Harrington is an excellent example of a student who, from the beginning of their undergraduate career, took every advantage of UMaine's resources to get involved in the Honors College and Psychology Department research, culminating in a stellar set of skills, accolades, awards, and publications that have propelled her right into a doctoral program.
Physics and Astronomy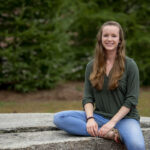 Arianna Giguere is the outstanding senior in physics and astronomy. Arianna is a member of the Honors College, with a Mathematics minor. She received the Edith Patch Award and was inducted into Phi Beta Kappa and Sigma Pi Sigma (the physics student honor society). Arianna asks all the right questions and seeks out challenging problems that go beyond what is taught in class. Ari brings passion, energy, and thoughtfulness to each experience. As an outstanding student, a team player, and a strong role model, it's clear to every faculty member with whom she has interacted that she is remarkable. This was evident to many of us during her first year in the program, and has been reinforced since. Ari was a Maine Learning Assistant in both physics and mathematics. She also participated in three NSF Research Experiences for undergraduates in 4 years, each more prestigious than the previous and each in a different research area. Ari will begin a doctoral program in Imaging Science at the Rochester Institute of Technology this fall.
Mathematics and Statistics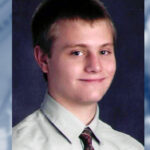 Abram Karam is the outstanding senior in the Department of Mathematics and Statistics for 2020. Not only does he have a 4.0 in the Mathematics major, but he has also done original research in applied mathematics under the direction of Professor Peter Stechlinski. Specifically, in his 55 page capstone paper, Abram develops higher order lexicographic differentiation. He will be returning next year as a student in our Mathematics MA program.
International Affairs
Ally Cooper is this year's outstanding graduating senior in International Affairs, with a concentration in International Security. Ally is part of the four+one program with the School of Policy and International Affairs and will be continuing at UMaine to complete her graduate degree in this program next year. Ally's personal goals are to travel extensively to meet new people, gain interesting experiences and become worldlier. Her professional goals include becoming a Foreign Service Officer with the U.S. State Department so she can help America and the world through conflict resolution, learning languages and understanding cultures.
Modern Languages and Classics
Julie Watson is this year's outstanding graduating senior in modern languages and classics. Julie brings to the study of language, literature, and culture an expansive sense of wonder coupled with sharp analytical attention. She is one of our most exacting writers in the Spanish major. As a careful and encouraging editor, Julie has proved an invaluable support to her classmates throughout the course of her studies. For her outstanding academic achievements she has been recognized by induction to Sigma Delta Pi, the National Collegiate Hispanic Honor Society. We are proud that she plans to build on what she has learned in the Department of Modern Languages and Classics, in her second degree track in the College of Education and Human Development, and in her work in schools, from Downeast Maine to Isla Mujeres, Mexico, to pursue a career as a teacher.
History
Collin Soucy is an outstanding History student, who normally finishes at the top of his class. He has completed 16 History courses to date, and received an 'A' in all of them, except one (where he received an 'A-'!). Among these courses, he completed two large research projects, one on the Deerfield Raid of 1704 and the other on Emperor Constantine and Christianity. Each study analyzed its complex topic with nuance and insight, and they each generated polished and compelling conclusions. Not surprisingly, professors consistently describe him as a perceptive thinker, a strong writer, and overall a terrific student.
Computer Science
Jens Hansen is the outstanding senior in computer science. Jens is not only an exceptional student, he is a leader among computer science students, lending his insight to other students in his role as a Lab Monitor and also as a Maine Learning Assistant, demonstrating his vision as the team leader of his capstone project software development team. He provides all such service while completing his undergraduate degree with high marks as a double major in Computer Science and Mathematics. As a double major of Mathematics and Computer Science, Jens excellend in two challenging programs. He has undertaken a heavy course load. In the Spring 2020 semester, he was enrolled in 24 credit hours. Quoting one of the Computer Science lecturers, Chris Dufour, "Jens typically takes on what appears to be unsurmountable workloads and emerges successfully each time."
New Media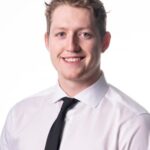 Mitchell Fossier is the outstanding senior in new media. From his first year to his senior year, Mitch has excelled as one of the top students in his classes. Not only has he maintained a high academic presence in New Media he has also excelled as a student athlete. During his four years at the University of Maine, Mitch has demonstrated the ability to not only maintain his high academic standing but also work independently with great creativity and enthusiasm. He puts in long hours on both his academic and personal creative work, along with the demanding time required to be a top athlete. Besides his studies in New Media, Mitch is minoring in Music and has taken courses in recording arts.
English
Maddy Jackson is the outstanding senior in English. She declared her major in 2016 and has since distinguished herself in numerous courses, from the Renaissance and Restoration periods through to the present day, working with and earning the high regard of a wide range of faculty members. As one wrote, "Maddy was really a star, and a lovely presence in the classroom." Another cites her as "an active and inspiring member of many campus communities." An eloquent advocate for the humanities, Jackson served on the inaugural Student Task Force that advised the Humanities Center director in her first year at UMaine and spoke at the naming ceremony for the McGillicuddy Humanities Center in the summer of 2017. In addition to serving as the assistant to the first endowed professorship in English, the Stephen E. King Chair held by Caroline Bicks, Jackson was head copy editor at the Maine Campus and a tutor at the Writing Center. As part of her Honors College experience, Jackson presented at the National Collegiate Honors Council in New Orleans in November of 2019. She has been accepted into the prestigious Master of Arts in Publishing and Writing at Emerson College.
Communication and Journalism
Liz Theriault is the outstanding graduating senior in the Department of Communication and Journalism. She completed her senior year with the highest GPA among all three majors in CMJ, comprising journalism, media studies, and communication. Her activities and societies include the Honors College, Lamda Pi Eta, Phi Kappa Phi and as a John Mitchell Nickerson Scholar. Liz excelled academically while holding multiple professional positions and developing skills in research, writing, reporting, interviewing and photography. These positions included student employment as a writing assistant to the Media and Communication Department at EPSCoR (Established Program to Stimulate Competitive Research), writing news stories on researchers and their projects. She held the position of opinion section editor at the Maine Campus since 2017, and she has served as a communication intern at the Maine chapter of the Scholar Strategy Network since 2018, managing its Twitter account, producing tweets on chapter news and research that promote the network. She began her journalism experience as a reporter and photographer at the St. John Valley Times in the summer of 2017.