Art Education students collaborate with Maine-Wabanaki REACH for Maine Day event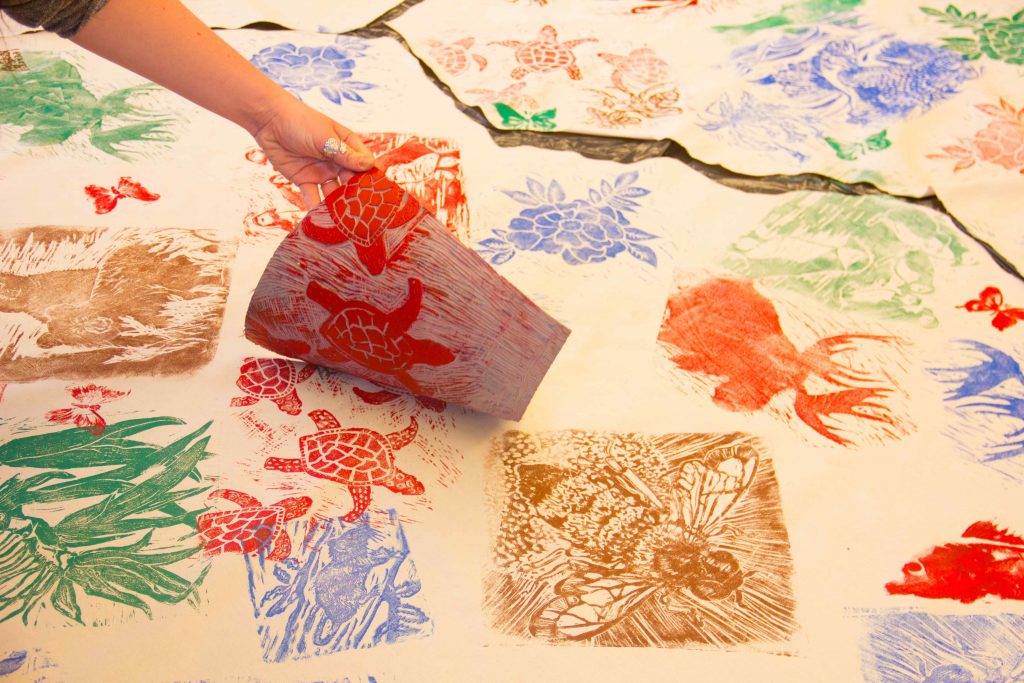 The University of Maine Art Education Community Outreach are partnering with Maine-Wabanaki REACH to create an interactive storytelling event for UMaine's annual Maine Day festivities.
Art Education students have been busy this semester designing and constructing an interactive map of Maine that will be the centerpiece of an exploration of events in the shared history of Europeans and their descendants and Wabanaki people, the Indigenous people of Maine.
The canvas map, which measures an impressive 22'x15', is divided into multiple, interlocking sections representing the many historical divisions that have arisen between European-Americans and the Wabanaki. The surface of the map is decorated with flora and fauna imagery that represents the environmental and cultural connections between all Maine people.
Professor Constant Albertson facilitated the project and stresses the importance of collaboration between the Art Education students and members of Wabanaki REACH. Wabanaki REACH has been essential in helping the students to think critically about the project's imagery and language. The Art Education students, for their part, are intentional about creating a multi-use project that will be donated to Wabanaki REACH, after the Maine Day event, for future community activities.
Community outreach is central to the mission of UMaine's Department of Art.
In addition to the Maine Day collaboration with Wabanaki-REACH, Art Education students Hannah Bailey of Waldo, Laura Lyons of Ellsworth, Amy Sutherland of Gorham, and Maire Gardner of Carmel, design and facilitate after-school ArtWorks programs for students from diverse local communities, including Bangor, Veazie, and Indian Island. ArtWorks, a five-week visual arts program that culminates in a student exhibition on April 28, gives young people grades K-8 access to the department's facilities and the opportunity to create art in different mediums, including painting, sculpture and printmaking.
Art Education students were also present at this year's Hope Festival, running a makerspace in which visitors decorated postcards to raise awareness of issues involved in Penobscot River water quality.
The Maine Day interactive storytelling event will take place May 3 in Lord Hall, room 202, from 3:30 p.m. to 5 p.m.
If you would like to participate in this activity please contact Constant Albertson, constant@maine.edu, by April 27.