English Language Support
The Intensive English Institute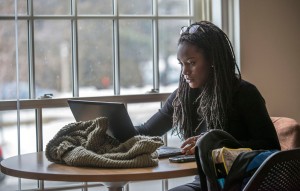 The University of Maine's Intensive English Institute provides quality English language instruction for students at all levels in a fun, safe, small group environment. For more information on the application process and fees, please go to the Intensive English Institute's web page.
Conversation/Culture Partner Program
The Conversation/Culture Partner Program is a free service that matches native speakers of English with non-native speakers on campus for language support and cultural exchange. Partners meet approximately once a week and can work on specific assignments or talk socially with one another. Our conversation partners are screened and participate in special training.
Conversation-Culture Partner Flyer
Application for a Conversation Partner
Writing Center
The Writing Center provides free assistance with academic writing assignments and much more. The Writing Center is staffed with ESL specialists specifically trained to work with international students. They provide one-on-one tutoring and a variety of workshops throughout the year.
Accent Modification Services
The University of Maine's Conley Speech, Language and Hearing Center offers accent modification services for free to UMaine students. Click here to learn more!