Culturefest 2023
What's Happening:
Culturefest will be held in the New Balance Recreation Center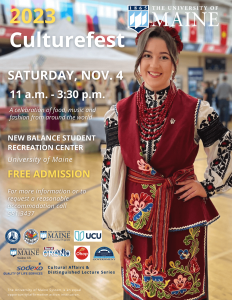 and will feature international foods, cultural exhibits, children's' activities,  and a style show.  
We will follow the COVID 19 safety protocol that are in place at the time of the event so please check this website closer to the date of the event for updates.
Date/ Time/Location
Saturday, November 4, 2023
11:00 am to 3:30 pm
New Balance Recreation Center
DIRECTIONS TO THE EVENT LOCATION
PARKING- will be available at the Rec. Center and in the athletic complex next to the football stadium.