How to check the status of your application in MaineStreet
Step 1
Log into MaineStreet with your UMS Account name and password once you activate your UMS Account.
Step 2
Navigate to Student Self-Service > Student Center.
Check the Status of Your Application
Scroll down in your Student Center to view the status of your application: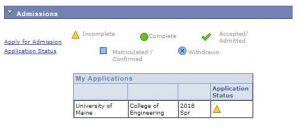 To Do List
To check what documents are not yet processed (already sent to UMaine), or what you still need to send to complete your application, review your "To Do List" which is on the right side of your Student Center. Please note we process application materials in the order we receive them. During peak time, it may take more than several days to process received documents.