More About Highmoor Farm
Highmoor Farm encompasses 278 acres on Route 202 in Monmouth, Maine, with 17 acres in orchards and 5 acres of tilled fields for vegetable and small fruit research. The facilities consist of two large barns, two laboratories, a shop, 10 cold storage lockers, two hoop houses, and a greenhouse. Highmoor Farm is one of five research farms in the Maine Agricultural and Forest Experiment Station and part of the College of Natural Sciences, Forestry, and Agriculture. Highmoor Farm also is a center for University of Maine Cooperative Extension outreach and research activities. Highmoor has a long history of providing integrated research and extension programs for Maine.
Highmoor Farm is ideally suited to provide research-based information for the apple industry. It also is home to vegetable and small fruit variety trials and integrated pest management programs. Apple research focuses on evaluating new varieties and winter-hardy rootstocks for Maine and studying methods to improve post-harvest quality of fruits. Vegetable and fruit trials have focused on tomatoes, green peppers, onions, sweet corn, pumpkins, strawberries, blueberries, and raspberries. Scientists also are evaluating new mulching techniques and greenhouse systems and developing integrated pest management strategies. Highmoor Farm also serves as the base for UMaine Cooperative Extension's apple, strawberry, and sweet corn IPM-scouting program and the Maine Compost School. More information about extension programs can be found on the links for Extension Education Programs.
Highmoor Farm staff work with a number of partners including the Maine State Pomological Society, Maine Vegetable and Small Fruit Growers, Maine Organic Farmers and Gardeners Association, and Maine Chapter of the American Chestnut Foundation. The Maine Chapter of the American Chestnut Foundation maintains a breeding orchard of chestnut trees at the farm in conjunction with the effort to reestablish American chestnuts in Maine and the region.
History of Highmoor Farm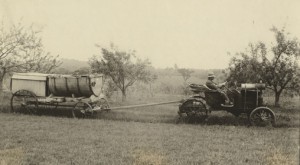 In July 1909 the state purchased 225 acres located in Monmouth and Leeds to be used as an experimental farm for carrying out research and demonstrations relating to apples. The land and buildings were later deeded to the university. Approximately 5,000 apple trees had been planted at Highmoor Farm in the 1880s, but only about 3,200 were in usable condition when the university took over the farm. These were mostly the popular export apples of that time—Ben Davis and Baldwin, with a few trees of Russett, Greening, Mann, and Tolman varieties.
In 1927 a plot of land to the southwest was added to the farm, and in 1966 the Maine Department of Agriculture turned over about two more acres of land to Highmoor Farm. Orchard problems have always been high on the list of priorities for research at Highmoor. Early research was directed toward the problems of fertilization, pruning, and management of ground cover. After suffering losses from cold winters, especially that of 1933/34, a major effort was made to secure hardy rootstock, an effort that has been quite successful. Research on suitability of cultivars and rootstock to Maine climate is continuing today. While Highmoor was primarily an "apple farm," other crops and cows received attention from time to time. New sweet corn varieties, cucumbers, a cantaloupe, the FNC tomato, two strawberries, and an apple, the Brock, were developed at Highmoor.