History of Highmoor Farm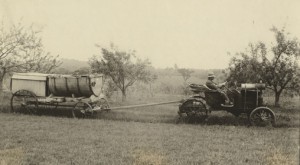 In July 1909 the state purchased 225 acres located in Monmouth and Leeds to be used as an experimental farm for carrying out research and demonstrations relating to apples. The land and buildings were later deeded to the university. Approximately 5,000 apple trees had been planted at Highmoor Farm in the 1880s, but only about 3,200 were in usable condition when the university took over the farm. These were mostly the popular export apples of that time—Ben Davis and Baldwin, with a few trees of Russett, Greening, Mann, and Tolman varieties.
In 1927 a plot of land to the southwest was added to the farm, and in 1966 the Maine Department of Agriculture turned over about two more acres of land to Highmoor Farm. Orchard problems have always been high on the list of priorities for research at Highmoor. Early research was directed toward the problems of fertilization, pruning, and management of ground cover. After suffering losses from cold winters, especially that of 1933/34, a major effort was made to secure hardy rootstock, an effort that has been quite successful. Research on suitability of cultivars and rootstock to Maine climate is continuing today. While Highmoor was primarily an "apple farm," other crops and cows received attention from time to time. New sweet corn varieties, cucumbers, a cantaloupe, the FNC tomato, two strawberries, and an apple, the Brock, were developed at Highmoor.
[SlideDeck2 id=649]
Highmoor Farm has provided more than 100 years of research and public outreach to the people of Maine. Enjoy these images of early farm activities, including a photo of a Maine Pomological Society meeting at the first Highmoor Farm field day in 1909.