High-performance computer modeling to tackle fisheries future
Timely forecasts of storms and effective management of commercial fishing are essential in the wake of extreme weather events and unprecedented warming in the Gulf of Maine.
Damian Brady, University of Maine assistant professor in the School of Marine Sciences at the Darling Marine Center, is working to advance both of those goals.
The National Science Foundation recently awarded Brady and colleagues a $266,309 grant to advance UMaine high-performance computer modeling tools to do just that.
The project — "Major Research Instrumentation Program Track 1: Acquisition of High Performance Computing to Model Coastal Responses to a Changing Environment" — includes buying a system that nearly triples computing power at the university and acquiring an off-site backup system for project data.
The project is ideal because it joins world-class researchers and experts in cyberinfrastructure to create a platform that advances goals of the research and creates a platform that benefits research and education across all disciplines, says Bruce Segee, the Henry R. and Grace V. Butler Professor of Electrical and Computer Engineering and director of the Advanced Computing Group.
"Computing and storage are the test tubes and microscopes of the 21st century. They support the creation of knowledge, collaboration, communication and economic growth," he says.
"Maine is fortunate to have a High Performance Computation facility available to its researchers and students, and this grant will help significantly increase the complexity of the questions that can be asked and the number of users it can support. Demand for computing resources is growing at a rapid pace, and this grant provides a great step forward to help meet the demand."
The tools will help scientists better predict climate changes and extreme weather, as well as understand ensuing ecological and physical consequences, and weigh costs and benefits of adaptation or mitigation.
"The effects of climate change are not likely to be straightforward. There are species and ecosystems that will benefit and those that will not," says Brady.
"The purpose of running computer models is that they ask the really tough questions like: What will happen to the lobster industry under a 1-, 2-, or 3-degree (temperature) increase? What will the impact of increased rainfall be on shellfish along the coast? Although models will not perfectly predict the consequences of these changes, they can give us a range of potential futures."
Maine is uniquely positioned physically and economically to be affected by climate change, Brady says. The state is on one of the sharpest latitudinal temperature gradients in the world and has one of the longest coastlines in the United States."
And the potential impacts of climate change are significant for Maine, where the economy is linked to marine resources and infrastructure. The aquaculture industry (predominantly salmon and shellfish) doubled in value from 2005 to 2013. And Maine's commercial fisheries were valued at a record $585 million in 2014, says Brady.
Boosting computing capacity at UMaine will allow coastal modelers to inform local decisions and increase undergraduate and graduate student access to high-performance computing, Brady says.
UMaine colleagues Huijie Xue, professor of oceanography; Fei Chai, professor of oceanography; Qingping Zou, assistant professor of coastal engineering, and Sean Birkel, research assistant professor with the Climate Change Institute, are taking part in the three-year project with Brady and Segee.
2018-19 Chateaubriand Fellowship Call for Proposals
We would like to inform you that the Chateaubriand Fellowship call for applications for 2018-2019 is now open. The Chateaubriand Fellowship is a grant offered by the Embassy of France in the United States. It supports outstanding Ph.D. students from American universities who wish to conduct research in France for a period ranging from 4 to 9 months. Chateaubriand fellows are selected through a merit-based competition, through a collaborative process involving expert evaluators in both countries.
The Chateaubriand Fellowship call for applications is now open: http://chateaubriand-fellowship.org
Complete applications must be submitted by January 16, 2018.
---
Make our Planet Great Again Initiative
In support of the Make Our Planet Great Again Initiative launched by President Emmanuel Macron in June 2017, the Chateaubriand Program is offering additional fellowships this year for research projects related to Earth System Science, Climate Change and Sustainability, and Energy Transition.
Applicants interested in the Make Our Planet Great initiative should complete either the STEM or HSS Chateaubriand Fellowship application:
STEM: Science, Technology, Engineering, Mathematics & Health
The Chateaubriand Fellowship in Science, Technology, Engineering, Mathematics & Biology-Health for doctoral students aims to initiate or reinforce collaborations, partnerships or joint projects between French and American research teams. The Chateaubriand Fellowship supports PhD students registered in an American university who wish to conduct part of their doctoral research in a French laboratory.
This fellowship is offered by the Office for Science & Technology (OST) of the Embassy of France in the United States in partnership with universities and research organizations in France and the United States. It is a partner of the National Science Foundation's GROW program.
HSS: Humanities and Social Sciences
The Chateaubriand Fellowship in Humanities and Social Sciences is offered by the Cultural Services of the Embassy of France. The HSS program targets outstanding Ph.D. students enrolled in American universities who seek to engage in research in France, in any discipline of the Humanities and Social Sciences.
The HSS Chateaubriand program is supported by the Campus France agency which provides a welcome package and assistance to fellows upon their arrival. Social networking opportunities are also offered by the Fulbright program in France.
---
ELIGIBILITY
Candidates must be currently working on their Ph.D.
Candidates do not have to be U.S. citizens, but they must be enrolled in an American university.
Candidates must obtain a letter of recommendation from their advisor(s) in the U.S., as well as a letter of invitation from a professor affiliated with a French university or research institution. Please contact your supervisor in France as early as possible.
For more specific eligibility criteria please visit: http://chateaubriand-fellowship.org/
BENEFITS
A monthly stipend,
Health insurance for the entire duration of the fellowship
A round-trip ticket to France
SELECTION CRITERIA
Academic relevance of the research project
Student's command of the subject
Benefits of a research trip to France for the future of the collaboration
Background of the research collaboration
Contribution of the project to France/U.S. academic exchange
CONTACTS
STEM Chateaubriand Program: stem.coordinator@chateaubriand-fellowship.org
HSS Chateaubriand Program: hss.coordinator@chateaubriand-fellowship.org
2017-18 Maine Space Grant Consortium Graduate Call for Proposals
We are pleased to announce the 2017-2018 Maine Space Grant Consortium Graduate "Call for Proposals."
Refer to cugr.umaine.edu/msgc for application guidelines and instructions.
The focus of the proposed project must be aligned with the research priorities of NASA's earth and space science strategic enterprises. The project may be an ongoing one or a new project. Proposals will be reviewed and awarded on an annual basis. The graduate research fellow and a faculty advisor shall agree to provide the end data for the project in the form of a final project report.
Deadline for Submission 
Please provide electronic submission of the application prior to 

Dec 1, 2017

 deadline. 
Eligibility
For a student to be eligible for a Graduate Research Fellowship Award, the following criteria must be met:
• The student must be a US citizen, and
• The student must be enrolled or intending to enroll on a full-time basis in an approved graduate program at the University of Maine.
Duration of a Graduate Research Fellowship Award
Fellowships are available for a period of one semester. The limit for any given student is two awards.
Amount of Awards
Each graduate fellowships will be $6,000 each and act as a Research Assistantship Supplement.  Tuition and health are NOT included in this award. Priority will be given to ongoing fellowships.  Maximum number of awards is 2 per student.
Anticipated Project Start Date
The award will be announced by 
Dec 15, 2017
.  It is anticipated that the project will start after 
Jan 1, 2018
. The start date is negotiable.

It is required that students contact a faculty supervisor prior to writing of the proposal
Review Process
Proposals should be written so that a reviewer who is not in the same technical field can understand the goals, objectives, and scope of work, anticipated resources, and benefits to the body of knowledge or science. For an undergraduate scholarship a statement should be made regarding your motivation to pursue graduate studies.  A subcommittee appointed by the MSGC University of Maine Representative will conduct the proposal selection.

Proposal Selection Criteria
An applicant must provide justification about how the project will enhance the research areas in which NASA has an interest. A strong application will provide a clear linkage with one of NASA's four strategic enterprises and it will include collaboration with a NASA center.   Information regarding NASA's strategic enterprises can be found at 
http://www.nasa.gov/enterprises.html

The following criteria will be central to the evaluation of all proposals:
• Quality of the proposal narrative.
• How well the proposal narrative demonstrates alignment with one of NASA's strategic enterprises
• The qualifications of the student.
• Level of faculty supervision.
• Level of NASA collaboration.
Maine Business School – PhD Candidates
The Maine Business School is seeking PhD candidates who are especially skilled in Quantitative and/or Qualitative research methods for a 10 hour per week graduate assistantship during AY 2017/18. This graduate assistantship carries a stipend of $844 per month (payable in 9 installments), a full tuition waiver for up to 4.5 graduate credits per semester (up to 3 credits in the summer, if applicable) and a credit for 25% of the cost of the designated UMaine health insurance policy designed for graduate assistants and fellows.
International students enroll in the UM international health insurance plan.
This is a phenomenal opportunity to understand the workings, implications and nuances of business and to work with MBA faculty members who are experts in their fields.
Please contact the MBA Director, Scott Spolan, JD, MBA with a letter of interest and current CV scott.spolan@maine.edu.
Scholarship Opportunity – Healthline
The Healthline Stronger Scholarship Program
– Sponsored by Healthline to further our vision of making the world a stronger, healthier place. Ongoing program where each year we will focus on a new condition to award students who share our mission (our landing page & url will stay consistent)
– Application open May 15-June 20, 2017
– Funds distributed August 2017
– For graduate students enrolled in U.S. schools only
For more information, visit www.healthline.com/health/scholarship-program.
Clam Cam offers glimpse of lives, challenges of harvesters
Bridie McGreavy grew up in Brownfield, Maine, but until arriving at the University of Maine in 2010, she hadn't been on a clam flat.
Walking on exposed intertidal mud for the first time, she says, was like entering a "world that was so foreign, so beautiful."
Now, thanks to the Clam Cam — which opens a window into the lives of Maine clam harvesters — others can experience that world, too.
McGreavy is an assistant professor in the Department of Communication and Journalism. She's collaborating on the project with Tyler Quiring, a Ph.D. student in communication, and Carter Hathaway, a 2017 UMaine graduate with a bachelor's in journalism.
A goal, says McGreavy, is to share the unique way of life and some of the pressing challenges of people who harvest clams for a living on the coast of Maine.
The team uses ethnographic methods (detailed, in-depth descriptions of people's daily life and practices) and digital media in its research to help foster communities' resiliency and sustainability.
After a harvester suggested the public could learn about his livelihood by vicariously digging clams, McGreavy's team supplied GoPros for harvesters — from Freeport to Roque Bluffs — to strap to their chests.
The videos depict what harvesters see — including sunrises, thick fog and sometimes even thicker mud. They also show the tools of the trade — rakes, buckets, hods, mesh bags and gloves, as well as various digging or pulling techniques. And more mud.
A microphone picks up the sucking sounds of harvesters' waders emerging from the mud, as well as the harvesters' occasional labored breath.
McGreavy says the Clam Cam captures the hard manual labor that goes into securing even a few pounds of fresh local clams for dinner.
Harvested soft-shelled clams from Maine were valued at $15.6 million in 2016 — making them the third most valuable commercial fishery in the state behind lobsters ($533 million) and Atlantic herring ($19 million). In 2016, the clam fishery dropped from second to third in commercial value, which may be part of a downward trend in many places in landed catch and license sales.
McGreavy says harvesters have shared a number of funny stories. In one, a person saw, for the first time, a harvester digging for clams and exclaimed, "So that's where clams come from."
Clam harvesters face environmental, economical and social challenges, says McGreavy.
Environmental challenges, she says, include climate change, which encompasses ocean acidification, shifting of species — including the devastating green crabs and other predators — and harmful algae blooms.
Social issues include persistent bias against clammers, lower levels of education and lack of access to technology in remote and rural areas.
Physical pain and substance use disorders contribute to other issues, says McGreavy, including challenges related to the capacities of towns to effectively manage and sustain the resource.
McGreavy, Quiring and Hathaway built a website — nest.maine.edu/clamcam — to showcase the project's videos, interviews and data. They hope visitors to the site gain knowledge and an appreciation for the harvesters essential to this vital Maine industry.
For Hathaway, of Turner, Maine, the Clam Cam project was his first outside-the-classroom research experience. He says he's gleaned in-depth insights about the clamming industry and an understanding of how academic research can benefit it.
For Quiring, of Kelowna, British Columbia, "one of the most compelling things about Clam Cam's wearable approach to audio and video recording is that clammers have a substantial, embodied role in shaping how their industry is depicted. This variation on traditional data generation supports engaged and ethically mindful research."
During one of the Down East digging sessions last summer, Quiring says the researchers helped a clammer put on the video camera, hit the record button and walked away to give him space. A few minutes later, they heard the man's voice and wondered to whom he was talking.
"It turned out he was narrating his digging on camera, talking to the eventual viewer and describing what it was like to dig, how hot it was, how he finds clams and drains the water from the hole he's working on, and why clamming is important to him," says Quiring.
"We were surprised and excited about this spontaneous relationship that was forming between clammer and viewer, across both distance and time. This is one example of the joy and care clammers bring to their work that enriches our experiences as researchers as well as the experiences of the public who will be able to view these videos."
A National Science Foundation award to the Senator George J. Mitchell Center for Sustainability Solutions and a grant from the University of Maine Humanities Center support the project.
Contact: Beth Staples, 207.581.3777
From UMaine News.
UMaine wild blueberry research wins at international symposium
Vasiliki Papakotsi, a graduate student in the University of Maine's School of Food and Agriculture, was recognized at the Berry Health Benefits Symposium in Pismo Beach, California for presenting one of the best research posters at the conference.
The poster featured a collaborative project between the laboratory of Professor Klimis-Zacas of the University of Maine's School of Food and Agriculture, and the University of Pennsylvania Medical School.
"This study sheds new light on the anti-inflammatory properties of wild blueberries and potential health benefits of berry consumption. It is a great honor to have this research recognized by the top experts in the field," Klimis-Zacas said.
Papakotsi found that extracts of phenolic compounds from wild blueberries can inhibit and regulate complement activity and their potential as anti-inflammatory compounds. She specifically examined how these compounds influence the complement system, a component of the immune system that boosts its ability to attack pathogens and remove them and damaged cells from the body, and promotes inflammation. Imbalanced activation of this system is tightly correlated with inflammation which, when chronic, is associated with degenerative diseases such as cardiovascular disease, cancer and aging.
"There is so much potential here and I feel that a new era of research on bioactives and their role on the Complement system will unfold," Papakotsi said.
The symposium, now in its 7th year, features cutting-edge findings about berries' potential influence on human health in many areas including cancer, leukemia, diabetes, metabolism, heart health and more.
From UMaine NSFA.
Elizabeth Trenckmann: Seeking to inspire high schoolers
Elizabeth "Betsy" Trenckmann wants to inspire science students similar to how Rita Kasper motivated her at La Veta Junior-Senior High School in Colorado.
Trenckmann soon will have that chance.
In August, the highly decorated 2017 University of Maine Master of Science in Teaching (MST) graduate will begin her career at Hermon High School instructing students in conceptual biology, Earth systems and Maine ecology.
Trenckmann describes Kasper as knowledgeable, caring, organized and disciplined — many of the same adjectives that Michelle Smith, UMaine associate professor of biological sciences and Trenckmann's adviser, uses to describe her.
Smith adds that Trenckmann also listens, eagerly accepts feedback, embraces learning and continually strives to get better.
Those qualities have served her well.
In April, Trenckmann earned the Presidential Research Impact Award at the Student Symposium for her presentation titled "Collaborating Across the University of Maine System to Improve Student Understanding of the Role of Energy and Matter in Photosynthesis."
The award, and $1,000, was presented to Trenckmann and to Smith in recognition of their research that could positively impact people in Maine, and that exemplifies the university's three-part mission of teaching, research and public service.
Trenckmann also won the best presentation award in the education category for the same University of Maine System Research Reinvestment Fund project.
"It's nice to honor future teachers," says Smith, adding that it's satisfying to see the university support education and include it in the research symposium.
For the project, Trenckmann, along with life science faculty from six of the system campuses and Hurricane Island Center for Science and Leadership, developed assessment questions and a student-centered, in-class activity for introductory college biology classes systemwide.
The active-learning exercise was designed to help students learn about matter and energy — primarily photosynthesis — and to explore how and why increased carbon dioxide could impact Maine-based industries involving timber, kelp and potatoes.
Trenckmann's co-authors included Erin Vinson, Karen Pelletreau, Kimberly Borges-Therien, Farahad Dastoor, Jason Johnston, Eric Jones, Peter Nelson, Jenn Page, Nancy Prentiss, Judith Roe, Joseph Staples and Smith.
A paper containing data and details about the project will be written and published in the public domain.
Trenckmann also has been chosen as the Outstanding MST Student Award in the RiSE (Research in STEM Education) Center and has earned a Noyce Fellowship from the National Science Foundation that provides for professional development.
While Trenckmann's rural hometown of La Veta is surrounded by national forests and is about 1,000 miles to the ocean, she became interested in the sea when her family regularly vacationed in Galveston, Texas. Her interest was piqued, she says, on a family trip to Hawaii.
Trenckmann, who wanted to study marine biology and play collegiate volleyball, attended Maine Maritime Academy in Castine.
After a stellar undergraduate career there — she was named a Scheel Scholar for best exemplifying intellectual curiosity and achievement, and set a single-season volleyball record for assists with 774 — Trenckmann chose UMaine for her graduate studies.
"I've grown a lot," says Trenckmann, especially in terms of pedagogy, research and developing professional contacts. She says her research and readings touted the benefits of active learning and she's witnessed firsthand the benefits of clicker-based class exercises and peer discussion.
Since January, Trenckmann has been student teaching at Orono High School.
This summer, she'll be a marine biology educator at the Smithsonian Marine Station at Fort Pierce, Florida. Scientists and students from around the world investigate plants, animals and physical processes in the ocean and Indian River Lagoon. Their findings inform public policy, conservation efforts and resource management.
And in August, Trenckmann will welcome student scientists to her classes in Hermon.
"I'm really excited about having my own classroom," says Trenckmann. "I want to become involved in the community and I'd love to coach or lead a club or activity."
Contact: Beth Staples, 207.581.3777
From UMaine News.
College names its 2017 Outstanding Graduate Students
The College of Natural Sciences, Forestry, and Agriculture at the University of Maine honored eight graduate students for their exemplary achievements during a banquet on April 26. The invitation-only event attracted over 400 university students, staff and friends.
These outstanding students include:
Brianne Du Clos, The Norris Charles Clements Graduate Student Award
The Norris Charles Clements Graduate Student Award was established in 1997 with a bequest from Laurel Clements '48 in honor of her father, Norris Charles Clements, a distinguished Maine poultry farmer. This award recognizes an outstanding graduate student in agricultural sciences and one whose accomplishments and studies have the potential to make a significant contribution to Maine agriculture.
Brianne Du Clos is a PhD candidate in ecology and environmental sciences whose research seeks to understand wild bee communities throughout Maine's wild blueberry landscape to help growers make informed pollination management decisions. She developed a novel tool called the BeeMapper that helps wild blueberry growers understand how the surrounding landscape influences the abundance of native bees. Brianne engaged growers and incorporated their feedback as she developed the BeeMapper, demonstrating her commitment to using science to address pollination security in Maine agriculture. Her advisors are Associate Professor Cynthia Loftin and Professor Frank Drummond in the School of Biology and Ecology.
Kara Costanza, The George F. Dow Graduate Scholarship Fund
The George F. Dow Graduate Scholarship Fund was established in 1975 with gifts from and in honor of former experiment station director Dr. George F. Dow '27. This award recognizes a graduate student with outstanding academic and research performance in a graduate program associated with the Maine Agricultural and Forest Experiment Station.
Kara Costanza is a PhD candidate in forest resources whose research aims to document the impact of Caliciopsis pinea, a native fungal pathogen, on white pine trees and lumber in New England. One of her advisors, Assistant Professor Shawn Fraver, says Kara has shown great leadership in collaborative efforts with external partners, obtaining funding for her research, and in mentoring more undergraduate students than any other graduate student he has ever known. She is also advised by Associate Professor Bill Livingston.
Jack McLachlan, The Fred Griffee Memorial Award
The Fred Griffee Memorial Award was established in 1952 by coworkers and friends in memory of Dr. Fred Griffee, director of the Maine Agricultural [and Forest] Experiment Station from 1931 to 1951. The award recognizes an outstanding graduate student in a program associated with the Maine Agricultural and Forest Experiment Station and is based on research ability, character, and scholarship.
Jack McLachlan is a master's student in ecology and environmental sciences who is studying the community ecology of tidal freshwater wetlands. Jack has engaged with the nonprofits, wildlife and water resource managers, and undergraduate and high school students in his research outreach efforts. His advisor, School of Biology and Ecology Assistant Professor Hamish Greig, says Jack epitomizes the highest standards of a UMaine graduate student in both research productivity, and as an ambassador for the college.
Audrey Bergeron, The Outstanding Master's Degree Student Award

The Outstanding Master's Degree Student Award was established in 2008 to recognize a graduate student in the college who has distinguished himself or herself in multiple ways at the master's level. The recipient is selected based on research and scholarly activity, teaching, professional activity, university and public service, and academic performance.
Audrey Bergeron is pursuing her master's degree in biochemistry. Her work focuses on using transparent zebrafish to study infection with fungal and bacterial pathogens. In addition to her research, Audrey has served as a senator on behalf of her department for Graduate Student Government, volunteered for student recruitment tours and events, and has served as a teaching assistant. Her advisor, Department of Molecular and Biomedical Sciences Assistant Professor Robert Wheeler, describes Audrey as an outstanding scientist and incredibly productive student.
Lisa Weatherly, The Edith M. Patch Outstanding Ph.D. Award
The Edith M. Patch Outstanding PhD Award commemorates the important work and career of Dr. Edith M. Patch, a pioneering entomologist, hired to work at the University of Maine in 1903. The award recognizes graduate students at the PhD level who have distinguished themselves in multiple ways. Recipients are selected based on research and scholarly activity, teaching, professional activity, university and public service, and academic performance, areas in which Edith Patch distinguished herself during her long career at UMaine.
Lisa Weatherly is a PhD student studying biomedical sciences with a concentration in toxicology. She has already published four papers on her research, which focuses on a widely used antimicrobial agent called triclosan's effects on mitochondria, the energy powerhouses of the cell, and on immune cell function. Her advisor, Department of Molecular and Biomedical Sciences Associate Professor Julie Gosse, describes Lisa as a highly talented and productive researcher that has flourished as a leader and mentor for other students. She has also won numerous awards from the national Society of Toxicology for her research.
Meisha Nickerson, The Jean A. and David A. Webb Professional Master's Award
The Jean A. and David A. Webb Professional Master's Award was established in 2015 through a bequest from and in memory of Jean and David Webb. The award recognizes a student in a professional master's program, who has a distinguished record of service to the university or other professional organizations.
Meisha Nickerson is a master's degree student in the School of Social Work. Her professors describe her as an exceptional student who truly understands the complexities of social work. Meisha distinguished herself as an outstanding advocate for her field when she advocated for the passage of a bill in Maine to improve the safety of social workers, which became law in 2016. As a student she also volunteered at UMaine's counseling center and currently works to improve social work education at Acadia Hospital. She is an active member of the National Association of Social Workers, and continues to advocate for policies that enhance the well-being of society's impacted parties. Her advisor is School of Social Work Field Education Director Nancy Kelly.
Kisei Tanaka, The Graduate Research Excellence Award
The Graduate Research Excellence Award was established in 2008 to recognize graduate student excellence in research in the College of Natural Sciences, Forestry, and Agriculture. The recipient is selected based on research accomplishments and the quality of his or her research and scholarly activity.
Kisei Tanaka is a PhD candidate in ecology and environmental sciences whose research aims to incorporate changing ocean environments into the assessment and management of American lobster stocks. Kisei's research has caught the interest of stakeholders and he has been invited to serve on a government panel to evaluate benthic habitat abroad, demonstrating the influence of his work. His advisor is School of Marine Sciences Professor Yong Chen.
Jocelyn Runnebaum, The Outstanding Service Award

Jocelyn Runnebaum is a PhD candidate in marine biology, who used collaborative research to improve the relationship between fishers and scientists. Through her study of the mortality of cusk discarded in the Maine lobster fishery, she has made significant progress in working with stakeholders' to further fishermen and scientists understanding of bycatch issues. Her research has already garnered interest from industry organizations, news outlets, and journals. Jocelyn's advisor, School of Marine Sciences Professor Yong Chen describes her as one of the most intelligent, motivated, and hard-working graduate students he has had, and a wonderful ambassador for the University of Maine.
From the College of Natural Sciences, Forestry, and Agriculture.
Jankowski, Kilroy, St. Amand awarded graduate research fellowships
University of Maine students Melissa Jankowski, Elisabeth Kilroy and Anne "Ani" St. Amand have been awarded graduate research fellowships because of their demonstrated potential for significant achievement in STEM fields.
The three-year National Science Foundation Graduate Research Fellowships are to promote innovation, transformative scientific breakthroughs and economic growth in the U.S.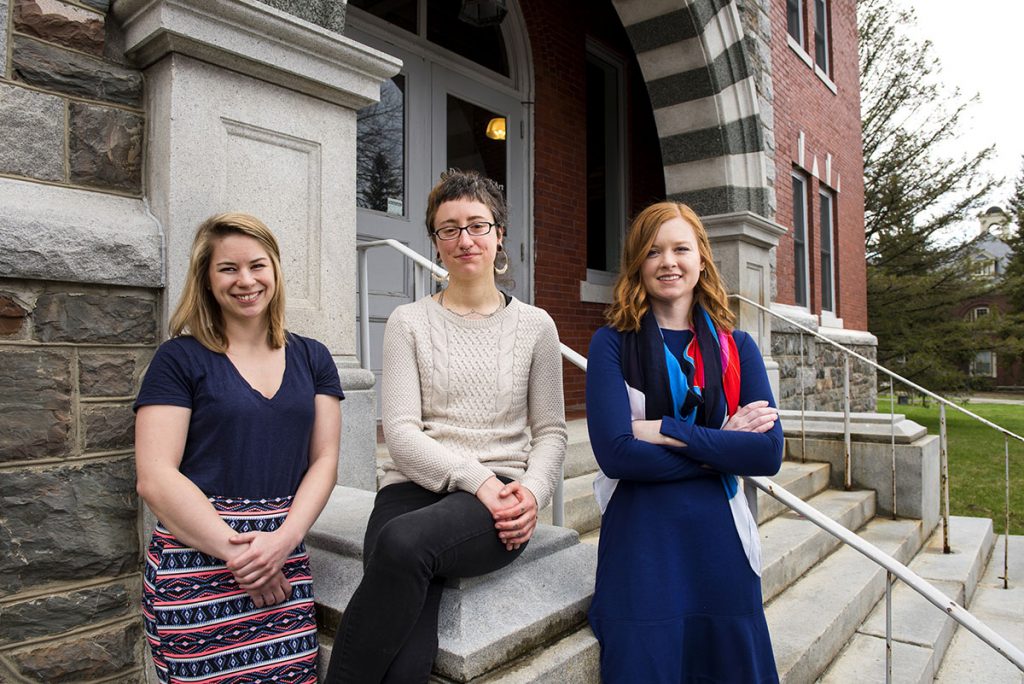 Jankowski, of Cassville, Missouri, is pursuing a Ph.D. in clinical psychology (developmental-clinical track). She expects to earn her doctorate in 2021.
Her research focuses on peer relationships and their relationship to risk and resilience in adolescence. Specifically, Jankowski investigates the interpersonal mechanisms of risk for, and influence of, "contagious" suicide and self-harm behaviors in adolescents.
After Jankowski's mother died of cancer, Jankowski lived with friends her last two years of high school.
"Spending so much time with peers precipitated an ongoing intrigue with the dynamics of social relationships and peer influence," she says. "Observing my peers from the inside and out led me to become interested in how particular health-risk behaviors emerged within the social context of their families and other peer relationships."
Jankowski analyzed differences between friends who were susceptible to peer influence and those who weren't and took a mental inventory of factors that seemed protective for some and harmful for others.
After high school, Jankowski studied psychology to formally explore risk and resilience in interpersonal contexts. She earned a bachelor's degree in psychology and minored in statistics and music at University of Missouri.
Jankowski plans to be a clinical psychology faculty member at a research institution.
"I hope to go into academia, but I have also fallen in love with clinical work from the experiences I have had in my training so far at the University of Maine," she says. "I'm hoping to find a faculty position that will combine both aspects of my training and interests."
Jankowski skates with the Northwood Derby Knockouts roller derby team and enjoys hiking and exploring Maine with her husband and 4-year-old son.
Kilroy, of Brewer, Maine and Charleston, South Carolina, is pursuing a doctorate in biomedical science. She expects to obtain her Ph.D. in 2020.
Kilroy's research focuses on developing effective therapies for muscular dystrophy — a neuromuscular disease characterized by a loss in muscle mass that results in progressive muscle weakness. She's revisiting the premise of whether strength training is beneficial or detrimental to individuals with the disease, using the zebrafish as model for muscular dystrophy.
For people with muscular dystrophy, a protein needed to build and maintain healthy muscle is missing or doesn't function properly, which results in the muscle's inability to contract properly. Muscles also tire more easily and individual muscle fibers atrophy.
Kilroy's father and brother are battling a yet-to-be identified type of muscular dystrophy and medical professionals don't know what's causing their muscles to waste.
She became fascinated with muscles at age 6 when she played catch with her father. "I would put the ball in his hand, raise his arm up, then I would sprint maybe 20 yards out," she says. "Dad would have just enough strength to throw the ball to me. I would catch it and sprint back to him and we would repeat it. Some days we could do this 15 times, some days only five."
Kilroy was 11 when her dad became paralyzed after falling and she later witnessed her brother give up his freestyle skiing career because of the disease. She says he struggles now to do things that were once easy for him, including tying his shoes and pouring milk on cereal.
"Where their dreams ended, my dreams began," she says. "You have to find passion and once you find that passion you become completely dedicated and committed."
Kilroy's a firm believer that people need to define their purpose. "My 'why' is because at 6 a.m. when my alarm goes off to head to the gym, I know there are thousands of individuals who would love to have the ability to get out of bed on their own, get dressed on their own, grab a banana and go to the gym and workout for an hour," she says.
In the lab, Kilroy learns techniques, reads publications and pores over data. In addition to searching for a cure for muscular dystrophy and becoming an inspiring university professor, Kilroy says she'll always be an advocate for science.
St. Amand, of Deer Isle, Maine, is pursuing a quaternary and climate sciences master's degree and an interdisciplinary doctorate. She expects to earn her doctorate in 2021.
St. Amand explores intersections between climate change and human behavior over the last 12,000 years.
She uses geoarchaeological methods, spatial analysis and geophysical modeling to understand how past climates and environments have impacted human settlements, infrastructure and resource acquisition.
St. Amand also uses remote sensing to create land cover classification models to identify new archaeological sites. Doing this, she says, expands the archaeological record and provides new proxy evidence to enhance and refine climate reconstructions.
Her career goals include communicating science to the public and conducting research that expands knowledge of dynamic Earth systems. She also seeks to increase communities' capacities to adapt to rapidly changing climates.
St. Amand says she was drawn to the field because the archaeological record provides an incredible wealth of information relevant to climate and environmental sciences, ecology and geology.
She enjoys the interdisciplinary nature of the research and using scientific technologies to understand past environments and human cultures.
St. Amand attended Southern Maine Community College and the University of Maine and earned a bachelor's degree in anthropology geography, a minor in geoscience and a Geographic Information Systems Certificate.
Some of her other pursuits and interests include analytical chemistry, social justice, motorcycles and being with friends.
Contact: Beth Staples, 207.581.3777
From UMaine News.
Jesse Orach: Outstanding at optimizing performance
When Jesse Orach starts his job as a process engineer at Verso's Androscoggin Mill in Jay later this spring, he'll strive to optimize the paper machines' performance.
Maximize output and minimize energy use and waste.
Orach excels at achieving results. During his five years at the University of Maine, the Gorham native has demonstrated productivity and industriousness. When Commencement is celebrated May 13, Orach will have earned an MBA, a bachelor's degree in chemical engineering and a minor in mathematics.
He also will have the distinction of being one of two people ever to be named a two-time recipient of the "M" Club Dean Smith Award.
Since 1993, the prestigious award has been given annually to the top UMaine male and female student-athletes who exemplify outstanding academic and athletic achievement, citizenship and community service.
Women's basketball captain Sigi Koizar, a biology major with a pre-med concentration and chemistry minor, is the other two-time recipient. The native of Austria will graduate this spring with a 3.97 GPA.
Dean Smith, the award's namesake, graduated from UMaine in 1990. The electrical engineering major and basketball captain set a standard for academic and athletic excellence, earning the NCAA Walter Byers Award as the nation's best male scholar-athlete. Smith notched a 3.89 GPA, was a First Team Academic All-American and a New England Basketball Coaches Association Division I All-Star.
While Orach has been earning a perfect 4.0 GPA in pursuit of an MBA during his fifth year at UMaine, he's simultaneously been excelling in cross-country and track.
In fall 2016, he excelled on cross-country courses from Maryland to Maine. He won five America East Performer of the Week honors and capped the season by capturing the individual America East Cross Country Championship in 24:35.3 at University of Maryland, Baltimore County.
"That was the longest 15 minutes of my life," says Orach, referring to the latter portion of the 8K race. That's when he surged to the lead and bolted the remainder of the way with no other runners in sight. The second-place runner crossed the finish line a full 9 seconds behind him.
Orach says UMaine coach Mark Lech remarked that for the first time in his college career, Orach took his performance to the next level. For that feat and numerous others, he was named the America East Fall Scholar-Athlete.
It's particularly impressive considering that when Orach enrolled at UMaine, he hadn't run cross-country. In high school, Orach played outside midfielder for the Gorham boys' soccer team.
In fall 2016, Orach had eligibility remaining in cross-country because he had red-shirted due to injuries his first fall on campus. And he had eligibility remaining in spring 2017 because the second semester his junior year, Orach didn't compete while taking part in a co-op education program at the Verso mill.
Orach says his MBA experience has broadened his outlook. During capstone projects with Professor of Management John Mahon, the self-described data and numbers guy says he's learned a lot from classmates with varied academic and life experiences who utilize different problem-solving approaches.
And the former Pulp & Paper Foundation scholarship recipient says analyzing case studies of strategies employed by struggling companies has given him valuable perspective and ideas.
As an undergraduate, Orach earned a 3.95 GPA while majoring in chemical engineering and minoring in mathematics. Among his many undergraduate honors, Orach was a named a Presidential Scholar and the Outstanding Graduating Chemical Engineering Student.
With about a month of graduate school and track meets remaining, Orach still is striving to optimize his performance.
He wants to finish a 5,000-meter run in 14:05 or faster to qualify for the NCAA regional championships in May in Kentucky. Two remaining meets — the Princeton Invitational and the Penn Relays — will have incredible competition and be ideal for accomplishing that feat, he says.
Orach says if he doesn't attain his goal in either of those races, he'll try again at the IC4A Championships — which are being held Commencement Day — in Princeton, New Jersey.
When his college career is complete, Orach says running will remain an integral part of his life. In some ways, he's still hitting his stride. Last August, for instance, in his first-ever Beach to Beacon 10K in Portland, he won the Maine men's division in 31:32.
Next year, Orach also is likely to visit Orono to cheer on the Black Bears. In addition to his long-time teammates, the 2017–18 men's track and field roster will include another runner named Orach.
Orach says his brother, Ethan has decided to attend UMaine. During Ethan's recruiting trip, Orach showed him around campus and introduced him to friends.
"It was a weird experience, says Orach. "But coach (Mark Lech) was excited."
Ethan, like his older brother, played fall soccer at Gorham High School and will focus on running track in college.
Contact: Beth Staples, 207.581.3777
From UMaine News.