High-performance computer modeling to tackle fisheries future
Timely forecasts of storms and effective management of commercial fishing are essential in the wake of extreme weather events and unprecedented warming in the Gulf of Maine.
Damian Brady, University of Maine assistant professor in the School of Marine Sciences at the Darling Marine Center, is working to advance both of those goals.
The National Science Foundation recently awarded Brady and colleagues a $266,309 grant to advance UMaine high-performance computer modeling tools to do just that.
The project — "Major Research Instrumentation Program Track 1: Acquisition of High Performance Computing to Model Coastal Responses to a Changing Environment" — includes buying a system that nearly triples computing power at the university and acquiring an off-site backup system for project data.
The project is ideal because it joins world-class researchers and experts in cyberinfrastructure to create a platform that advances goals of the research and creates a platform that benefits research and education across all disciplines, says Bruce Segee, the Henry R. and Grace V. Butler Professor of Electrical and Computer Engineering and director of the Advanced Computing Group.
"Computing and storage are the test tubes and microscopes of the 21st century. They support the creation of knowledge, collaboration, communication and economic growth," he says.
"Maine is fortunate to have a High Performance Computation facility available to its researchers and students, and this grant will help significantly increase the complexity of the questions that can be asked and the number of users it can support. Demand for computing resources is growing at a rapid pace, and this grant provides a great step forward to help meet the demand."
The tools will help scientists better predict climate changes and extreme weather, as well as understand ensuing ecological and physical consequences, and weigh costs and benefits of adaptation or mitigation.
"The effects of climate change are not likely to be straightforward. There are species and ecosystems that will benefit and those that will not," says Brady.
"The purpose of running computer models is that they ask the really tough questions like: What will happen to the lobster industry under a 1-, 2-, or 3-degree (temperature) increase? What will the impact of increased rainfall be on shellfish along the coast? Although models will not perfectly predict the consequences of these changes, they can give us a range of potential futures."
Maine is uniquely positioned physically and economically to be affected by climate change, Brady says. The state is on one of the sharpest latitudinal temperature gradients in the world and has one of the longest coastlines in the United States."
And the potential impacts of climate change are significant for Maine, where the economy is linked to marine resources and infrastructure. The aquaculture industry (predominantly salmon and shellfish) doubled in value from 2005 to 2013. And Maine's commercial fisheries were valued at a record $585 million in 2014, says Brady.
Boosting computing capacity at UMaine will allow coastal modelers to inform local decisions and increase undergraduate and graduate student access to high-performance computing, Brady says.
UMaine colleagues Huijie Xue, professor of oceanography; Fei Chai, professor of oceanography; Qingping Zou, assistant professor of coastal engineering, and Sean Birkel, research assistant professor with the Climate Change Institute, are taking part in the three-year project with Brady and Segee.
Elias focuses on factors affecting spread of deer ticks, diseases
With the arrival of spring, many Mainers head outside to hike, mow lawns, picnic, and garden. But working and playing outdoors can bring people in contact with deer ticks and tick-borne diseases, including Lyme disease.
"Maine in 2014 had the highest incidence of Lyme disease of all the states in the country," says Susan Elias, a doctoral student at the University of Maine Climate Change Institute.
Midcoast Maine and islands were hardest hit, she says, adding, "We've got to get this figured out."
To help do that, Elias is studying deer ticks and their spread across Maine. She uses data sets and software that simultaneously take into account numerous variables and indicate the relative importance of each.
In addition to milder winters and sufficient moisture during summers, other factors that affect the spread of ticks and the diseases they carry include deforestation/reforestation, landscaping practices and deer management.
"If we just have a better understanding of all the factors taken together, I think we could do a better job of helping people control deer ticks and prevent disease," she says.
That's good news for Mainers. In the state, deer ticks carry five pathogens known to cause disease in humans, including Lyme disease, says Elias.
Lyme disease is a potentially long-term debilitating condition that can include facial-muscle paralysis, pain and weakness in the arms and legs, headaches, poor memory, rapid heartbeat, fever, chills and fatigue.
Each year since 2011 in Maine, there have been more than 1,000 confirmed cases of Lyme disease. In 2015, 1,171 confirmed and probable cases of Lyme disease were reported and, according to a January 2016 Maine Centers of Disease Control report to the Legislature, ages of people diagnosed ranged from age 1 to 95.
Elias' modeling results are expected to inform decisions about adaptations and strategies, including whether to invest in tick vaccines, as well as removal of invasive plants and deer management.
May is Lyme Disease Awareness Month in Maine and the Maine Center for Disease Control and Preventionrecommends the "No Ticks 4 ME" prevention techniques: Using an EPA-approved repellent; wearing protective clothing; doing daily tick checks; and being cautious in tick-infested areas. Lyme disease is treated with antibiotics; the CDC says it's easiest to treat in the early stages of illness.
People who find ticks on themselves or pets may submit them to University of Maine Cooperative Extension Tick Identification Lab for testing. For more information about Elias, visitextension.umaine.edu/maineclimatenews/researchhighlights.
Contact: Beth Staples, 207.581.3777
From UMaine News
Olsen recommends local habitat protection to save saltmarsh sparrows
When Laura Garey wades into tidal marshes at sunrise to survey saltmarsh sparrows, the University of Maine graduate student also spies deflated balloons, trash and pollutants.
These reservoirs at the intersection of land and sea also are increasingly being damaged by coastal development, sea-level rise and more frequent storm surges.
All of which makes it tough on songbirds, including saltmarsh sparrows, who mate, build nests and feed in coastal marshes.
These specialist birds rely on tidal marshes in critical periods of their lives, and cannot successfully reproduce and survive in nonmarsh habitats.
Garey, who is pursuing a master's degree in ecology and environmental sciences, has tracked the at-risk saltmarsh sparrow in southern Maine during its breeding season until the nests failed or the nestlings fledged.
The dearth of this songbird is one of the findings of a five-plus-year project of the Saltmarsh Habitat & Avian Research Program (SHARP). Garey and other scientists from UMaine, as well as researchers from other universities and agencies, collaborated on the project.
In addition to the saltmarsh sparrow, researchers studied the reproduction of four other species across the Northeast U.S.: Nelson's Sparrow, Seaside Sparrow, Clapper Rail and Willet — all of which utilize tidal marshes.
Since 2011, the cooperative undertaking has included about 200 participants who estimated the population sizes of 23 wetland bird species across nearly 2,000 surveyed locations in 10 states from Maine to Virginia.
The findings are alarming.
Since 1998, the number of saltmarsh sparrows has dropped about 9 percent annually in the northeastern U.S. and nearly 11 percent annually in Maine, says UMaine research professor Brian Olsen, a principal investigator with SHARP.
Olsen puts it another way: Nearly eight out of every 10 birds has disappeared in the last 15 years.
Which means the birds — which grow to about 5 inches and weigh about half an ounce — are headed for extinction within 50 to 80 years.
Saltmarsh sparrows currently have no special protection at the federal level within the U.S., the only country where they are found. UMaine researchers say the species should be considered for federal listing as Threatened or Endangered. Now.
The promising news, says Olsen is that individuals, government agencies and conservation groups can take action to reverse the trend and to protect critical marsh habitats.
"We know we're losing tidal marsh habitats on the East Coast, we know we're losing birds in those marshes, and we know that local actions can halt these losses if we act now," Olsen says.
SHARP's mission is to promote long-term conservation of tidal marsh birds and the ecosystem that supports them by advising research-based management action in the northeast U.S.
Its findings and recommendations are in the 161-page report, "The Conservation of Tidal Marsh Birds: Guiding action at the intersection of our changing land and seascapes" released in August 2015.
One recommendation is to have unrestricted tidal flow to salt marshes.
Some roads or railways that pass through coastal marshes are built on deposited fill. And culverts, if installed at all, can be too small for enough tidal water to flow through to maintain natural salt marsh vegetation upstream.
The altered composition of the marsh isn't conducive to tidal specialist birds.
Maureen Correll, who earned her doctorate at UMaine, discovered that tidal restriction is the dominant driver of the decline of tidal marsh songbirds — even more so than sea‐level rise.
On average, tidal-marsh specialists — birds that spend their annual life cycle in the salt marsh — are declining in tidally restricted areas but are maintaining populations in marshes where tidal flow is unrestricted.
"We're responsible for our backyards," says Correll.
The way bridges are built and culverts installed and fertilizer is applied to land around the marshes does make a difference at the local level, says Olsen.
Case in point: The researchers found rates of survival and production of tidal marsh birds are highly variable in the Northeast, which suggests local actions matter and can lower the risk of species being wiped out.
"There are daily choices that can literally trickle down," he says.
Sea-level rise also is a problem for the species.
Tidal flooding and extreme coastal storms have resulted in more frequent nest failures and a decline in the population of saltmarsh sparrows in the northeastern U.S.
With the increase in frequency in flood tides, the window is shorter for tidal marsh nestlings to hatch and be able to fly before they drown.
Females weave nests just above the high-tide mark but below the top layer of the marsh grass so they're hidden from predators.
As depicted on the PBS Nature special "Location, location, location," which was filmed at SHARP study locations, the cycle of saltmarsh sparrow egg-laying is tied to the lunar cycle.
The time from when the female begins laying eggs until the last chick is fledged is generally 24 to 26 days. The lunar cycle repeats, on average, every 29.53 days, causing especially high tides for a few days each month — when the moon is either full or new.
And with sea-level rise, the high tides are getting higher. Just a slight change in the timing or level of tides can eliminate the "safe" window of 24–26 days during which a sparrow nest can survive and fledge.
While unhatched eggs can float and survive in the nest, chicks younger than 5 days aren't likely to be strong enough to climb to higher ground during the particularly high tides.
A few inches can mean the difference between life and death for the birds, who generally can fly when they're 8 to 11 days old.
In New Hampshire, scientists have experimented using floating habitat islands to increase the nesting success of saltmarsh sparrows.
In addition to unrestricted tidal flow and building floating nesting islands, SHARP suggests conservation groups and municipalities purchase open land adjacent to coastal marshes so marshes have the potential to migrate landward.
Birds, say the researchers, provide vital ecological functions. Across the country, birds pollinate plants, disperse seeds, scavenge carcasses and recycle nutrients back into the soil.
And they're sentinels. When they don't fare well, it's a warning that something is amiss. In coastal marshes, birds may be one of the most sensitive indicators of environmental health.
In addition to being important habitat for coastal birds, tidal marshes purify water, protect coastal infrastructure from storm surges, are nurseries for fisheries and are areas for public recreation.
Regional cooperation and coordination are imperative to maintain tidal bird populations into the next century, say the report's authors.
Britt Cline's research may prove beneficial throughout the region.
Cline, who earned her doctorate in wildlife ecology at UMaine and is a postdoctoral research associate at University of Delaware and SHARP, is developing an index to quantify the health of marshes on large spatial and temporal scales.
The index will include information about plants, birds and other environmental factors, including tidal marsh elevation and water quality.
Having numbers that quantify the health of coastal marshes will be valuable for evaluating restoration practices, says Olsen.
While it may be too late for Black Rails — surveyors spotted only 10 in two years, indicating a possible complete collapse of the Mid-Atlantic population — there's time and reason to work to save other species.
"When we save birds from large-scale threats, we see that what's good for the birds is also good for us," said National Audubon science director Gary Langham in "Audubon" magazine.
"This is true about agriculture, fishing, climate change. As we solve their problems we solve ours. This is about everyone's quality of life."
Meaghan Conway, who is pursuing a doctorate in ecology and environmental sciences at UMaine, agrees.
She says actions of people who live a considerable distance from the coast still can impact tidal marshes and species that depend on them for survival.
Conway knows.
She and other UMaine scientists who participated in the project have witnessed repercussions of restricted tidal flow, pollution, carbon emissions and balloon releases on songbirds and their habitat.
The full report, a summary and each participating state's summary are available at tidalmarshbirds.org.
Contact: Beth Staples, 207.581.3777
From UMaine News.
Suicide prevention work the focus of 2016 President's Research Impact Award
Melissa Jankowski was approaching the parking garage stairwell when she encountered a young man. He spun around and locked eyes with her. Frightened, she hurried to class. But there was something about his distant look that made her determined to search for him and ask if he was all right.
When she returned to the parking garage, he was gone.
Days later, Jankowski heard the news: A 22-year-old student jumped to his death from the facility.
She knew then that she wanted to pursue research on suicide prevention.
"I looked at him and instantly knew something wasn't right," Jankowski says of the encounter 6 years ago. "What did I see? Could others see it?  Could someone have saved him?"
Jankowski, now a first-year student in the University of Maine Clinical Psychology Doctoral Program, is conducting research with Assistant Professor Rebecca Schwartz-Mette that examines how suicide risk may manifest during at-risk individuals' interactions with strangers.
While existing research explains risk in the context of established relationships, no known studies apply theories of suicide to interactions with strangers. Understanding how suicide risk can appear in everyday interactions could improve the ability to identify those who need support the most, according to the researchers.
Jankowski received UMaine's 2016 Presidential Research Impact Award for her work that has particular significance in Maine, where the suicide rate is 20 percent higher than the national average, with one suicide every two days. In rural states, access to mental health care can be challenging, and many individuals go unnoticed until it is too late, says Jankowski, who is from Cassville, Missouri.
She hopes her work will inform clinical practitioners and community members.
From UMaine News.
Waller explores spectacular coral colonies in Glacier Bay
Rhian Waller received an incredible gift to celebrate the National Park System's 100th anniversary in 2016.
The University of Maine associate professor led the first-ever extensive expedition of the underwater fjords in Glacier Bay National Park and Preserve in Alaska.
"Glacier Bay National Park is such an amazing area, it's very hard to put it into words. Pictures are really the best way to describe the park. [It's] really one of the treasures of the National Park System," she says of the protected 3.3 million acres north of Juneau, Alaska that contain majestic mountains, glaciers, rainforests, coastlines and deep fjords.
Fewer than 300 years ago, a glacier thousands of feet thick covered the area. And when the massive ice sheet receded, it created the deep fjord system.
Today, visitors to GBNP see low-lying forests, bears, breaching humpback whales, puffins, sea lions and otters.
And thanks to photographs and videos taken by Waller and colleagues, park guests also will be able to learn about the life that thrives well below the water surface.
Prior to this two-week March expedition, Waller says very little was known about underwater ecosystems in the park and preserve. The goal, she says, was to explore, map and survey underwater habitats and ecosystems.
The exploration was revealing; Waller says the team located what could be two species of corals that have never been found in this area before.
In addition to the lush, enormous extensive coral colonies — some measuring more than 15 feet — Waller says the team documented healthy, diverse marine life teeming around the colonies — including many species of fish, sea stars, crabs and worms.
Because GBNP is a dynamic environment created by a receding glacier, Waller told the National Oceanic and Atmospheric Administration that she and her colleagues got a rare glimpse of ecological succession in action, including "virtually watching the corals claim territory as the glaciers retreat back into the bay."
Waller, who has taken part in dives all over the world, says the corals in Glacier Bay National Park are some of the most spectacular she's ever seen — lush, healthy communities, corals larger than cars, teeming with life.
"We knew that there would be corals in some of these areas within the park, but we didn't know just how amazingly healthy and just how extensive these coral communities would be," she says.
In March, Waller and the team traveled aboard R/V Norseman II to Glacier Bay. During days, teams of two scuba divers took turns exploring the fjords to a depth of about 100 feet.
And for 11 hours each night, scientists guided the remotely operated underwater (ROV) vehicle Kraken2 about 1,000 feet down to the bottom of the fjords to document and collect organisms.
Waller now will analyze samples gleaned from the collaborative project with NOAA, the U.S. National Park Service, U.S. Geological Survey, University of Connecticut and Rutgers University.
Research papers will follow.
So too will proposals to monitor the protected and dynamic environment, says Waller, who is based at the Darling Marine Center in Walpole.
It would be fascinating and informative, she says, to observe how corals grow and colonize in the fjord and document how the underwater ecosystem changes when the glacier becomes a hung glacier — no longer touches the fjord surface.
Contact: Beth Staples, 207.581.3777
From UMaine News.
Student Research Symposium Award Winners Announced
Thank you to all of you that attended the symposium on Wednesday. We had over 160 graduate students present their work to audiences that included faculty judges. Those of you who attended the award ceremony know that the scoring was very close. I am pleased to announce the winners and runners up in each graduate category as well as the winners of the special awards. If you attended the event and would like to give some feedback on how you felt it went and to inform next year's event you can do so here (there is an option to be entered into a prize draw): http://goo.gl/forms/53hhmpKFjX  – Jack MacLachlan, Graduate Student Government Vice President
President's Research Impact Award: Melissa Jankowski, Dr. Rebecca Schwarz-Mette
Provost's Innovative/Creative Teaching Award: Mark Congdon
Graduate Deans' Mentoring Award: 1st Magdalena Blaszkiewicz; 2nd Hannah Lawrence; 3rd Kris Hoffman
GSBSE Special Awards (Graduate and Undergraduate): Andrew Hart (Best Poster); Jessica Moore (Best Oral)
Best Art Exhibit: Alicia Champlin – 'I Am Sitting…'
Runner up: Eleanor Kipping – 'Fishnets, Lace and Family Photos'
Best Pecha Kucha Presentation: Tamanna Ramesh – 'Light-based pasteurization to ensure fruit juice safety and quality'
Runner up: Katrina Daigle
Best Live Reading of Written Work: Yarissa Ortiz-Vidal – 'Becoming a minority'
Allied Health
Best Oral: Tamanna Ramesh – 'Titanium dioxide assisted Ultraviolet treatment for inactivation of pathogenic bacteria in grape juice'
Runner up: Heath Myers
Best Poster: Ruby Ann D'Salva-Bouton – 'Usability Study of an Innovative Mobility Device'
Biomedical Sciences
Best Oral: Lindsey Avery – 'The role of Ift88 and primary cilia of cardiac progenitor cells in formation of the outflow tract during cardiac development'
Runners up: Erin Carter, Jeanne DuShane (tied)
Best Poster: Jacob Longfellow – 'The Role of Neutrophil Cytosolic Factor 1 (ncf1) in Innate Immune Response to Influenza Virus Infection in Zebrafish'
Runner up: Juyoung Shim
Education and Human Development
Best Oral: Billy Ferm – 'Examining students' abilities to follow and evaluate qualitative reasoning chains'
Runner up: Ashley Blanchard
Best Poster: Grace Gonnella – `Understanding How Students Use Contrasting Cases to Learn About Explicit Reasoning'
Runner up: David Kerschner
Engineering and Information Sciences
Best Oral: Kenneth Bundy – `Analysis of Air Leak Spectral Signatures for Application to the International Space Station'
Runner up: Chitra Manjanai Pandian
Best Poster: Lonnie Labonte – `Wireless Control Networks for Aerospace Vehicles'
Runner up: Lydia Kifner
Natural Sciences
Best Oral: Megan Leach – 'Pollen and nectar nutrition for foraging bees'
Runners up: Andrew Galimberti, Janet Gorman (tied)
Best Poster: Courtney King – 'The timing of the Last Glacial Maximum and subsequent recession alongside Hatherton Glacier, Antarctica'
Runner up: Meghan Capps
Physical Sciences
Best Oral: Stacy Doore – 'A Room with a View: Designing Natural Language Interface Structures for Indoor Scene Description'
Runner up: Christopher Bennett
Best Poster: Hari Prasath Palani – 'Multimodal Access to Graphical Information for Blind and Visually-Impaired people using Touchscreen-based devices'
Social Sciences, Humanities, & Business
Best Poster: Arthur Adoff, `Frontier Strategies for Improving the Ability of Older Adults with Chronic Conditions or Disabilities to Successfully Age in Place'
Runner up: Sara Lowden
NB: There were no entrants in the SSHB Oral category this year.
Young collaborates with NASA at Langley Research Center
For some, a dusty place where it snows and the average temperature is 81 degrees below zero Fahrenheit might not be an appealing destination.
But Mars — the fourth planet from the sun — is a place NASA intends for astronauts to explore.
Scientists at NASA's Langley Research Center in Virginia routinely ask, "How do we get there? What will we find? And what can we learn there that will make life better here on Earth?"
And Andrew Young, a University of Maine doctoral student in civil engineering who conducts research at the University of Maine Advanced Structures and Composites Center and a NASA Space Technology Research Fellow, is working to help NASA get people there.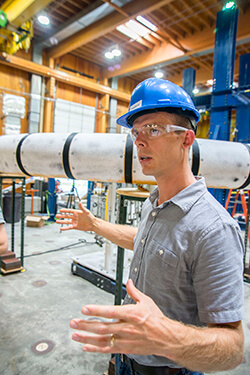 Earlier this year, Young took part in a 10-week visiting technologist experience at Langley Research Center to help further that goal. NASA had named Young a fellow for his efforts, and results, on testing its Hypersonic Inflatable Aerodynamic Decelerator (HIAD) at the Composites Center.
NASA annually sponsors fellows — graduate students with potential to contribute "to creating innovative new space technologies for the U.S. science, exploration and economic future."
The HIAD — which resembles a badminton birdie or shuttlecock — mounts on a nose of a spacecraft. As the craft enters a planet's atmosphere, the HIAD inflates to slow the craft so it can safely land.
The atmosphere on Mars is 96 percent carbon dioxide; Earth's is 78 percent nitrogen, 20 percent oxygen and .039 percent carbon dioxide.
NASA's HIAD technology is intended to make it possible for a spaceship large enough to carry astronauts and heavy loads of scientific equipment to explore Mars — which is about 34,092,627 miles from Earth — and beyond.
Young and other UMaine engineers are testing the HIAD for NASA and analyzing stresses and deformations at the Composites Center. NASA and EPSCoR are funding the three-year $750,000 project.
"The UMaine Composites Center provides me with opportunities and resources I never would've thought available in Maine, especially the opportunity to work so closely with NASA on this technology," says Young.
In Virginia, Young collaborated with NASA scientists and conducted complex advanced numerical modeling of the structural behavior of the HIAD and its components to understand the structures at a material, component and structural level.
Results gleaned in Virginia were promising and provided a roadmap for continued work on the project at UMaine, said Young, who is on schedule to earn his doctorate in summer 2017. His thesis title: Large Payload HIAD Systems: Structural Investigation and Optimization.
The Poland Springs, Maine native said working at the 800-acre Langley campus — which boasts more than 20 major test wind tunnels — was exciting, worthwhile and provided an interesting insider's perspective.
Young attended UMaine after working for eight years right out of high school. He said he wanted a steeper career trajectory.
His academic path at UMaine has been impressive.
In 2011, when he earned a bachelor's degree in civil engineering, Young was presented the Hovey Award, which is given to the outstanding senior in civil and environmental engineering.
And in 2013, when he earned a master's degree in civil engineering, he was named the Outstanding Graduate Student in the Civil and Environmental Engineering Department and received the Director's Award at the Composites Center.
After earning his doctorate, Young said he'd like to continue contributing to purposeful engineering projects and perhaps teach.
His collaborators at UMaine for the HIAD testing include: Bill Davids, the John C. Bridge Professor and chair of the Civil and Environmental Engineering Department; Andrew Goupee, Libra Assistant Professor of Mechanical Engineering; and Joshua Clapp, a doctoral student in civil (structural) engineering.
Contact: Beth Staples, 207.581.3777
From UMaine News.
Gorse evaluates how much aquaculture regions can support
Graduate research assistant Libby Gorse, whose lab is in the basement of Boardman Hall at the University of Maine, is excited about research she's spearheading for a Sustainable Ecological Aquaculture Network (SEANET) project.
She and Aria Amirbahman, professor of civil and environmental engineering, are studying the effects that aquaculture farms have on sediment below them.
Gorse, a civil engineering Ph.D. student, has been interested in chemistry and has been using chemistry lab equipment since she was a youth. Her father was an analytical chemist and Gorse followed in his footsteps and studied chemistry at Baldwin Wallace University in Berea, Ohio.
Maine EPSCoR at the University of Maine administers the SEANET project. A five-year, $20 million grant from the National Science Foundation is being utilized to learn how different types and scales of aquaculture fit into the state's multiuse working waterfront.
Researchers will monitor the environment through field investigations, lab analysis and buoy-based sensor technology to learn about trophic dynamics of aquaculture in Maine's coastal ecosystem.
Specifically, they'll study how nutrients move from the physical environment into living organisms and are then recycled.
SEANET has split the state into three bioregions to study in-depth and determine how much aquaculture an area can support.
The Maine coast serves as a living laboratory, allowing researchers to explore the special feasibility of aquaculture operations.
Gorse will explore each bioregion to contribute to an understanding of the carrying capacity — what density of aquaculture operations can be maintained, what kind of sites, and how many sites are appropriate — considering local conditions.
"My study will look at the different biodeposits from oysters, mussels, finfish and all the different operations Maine supports," she says.
"We need to grasp how to balance aquaculture operations to keep everything healthy and know how many sites or types of sites are appropriate."
By studying the sediment below aquaculture farms, Gorse and Amirbahman seek to learn how best to advise aquaculture farmers regarding growth and placement of farms along the coast.
"It's important to know the footprint — chemical and biological — of these farms," Amirbahman says.
"It's especially important for us to understand the role that these operations have on the overall nutrient budget of these systems. It will help us understand where to site — for instance how far apart from each other these operations should be. What kind of flushing rate you have, for instance — dilution via the tide or the current that can solve a lot of problems."
Collaboration across departments
To create equipment for her study, Gorse worked with UMaine's Advanced Manufacturing Center (AMC) to construct flux chambers to hold sediment samples.
A pump system moves water through the chambers and a chiller unit keeps the temperature of the samples at a consistent bottom water level of 45–55 degrees Fahrenheit.
John Belding, AMC director, says facility professionals and researchers collaborate to fabricate products and move research forward.
"For Libby's project, we worked from drawings and pictures of other systems that were used at other universities," he says.
"We came up with a design that met their needs based on what they were doing. Libby's research is specialized, so it needed some special equipment to accomplish it."
Belding says engineering students employed at the AMC get an opportunity to work on different parts and components of the project, from doing drafting drawings to being hands-on engineers.
"It teaches students a lot about what it means to be a project manager," he says.
After months of testing and trial and error, Gorse's system works just as she envisioned it. She plans to have preliminary results from the project in two to three months.
Working with stakeholders
The next phase of the study, likely in summer 2017, will be to gather samples from beneath aquaculture farms and obtain comparison samples from outside the area.
Work like this has never been done in Maine, Amirbahman says, and will be important for the next stage of research.
And, just as it's important for various UMaine departments to collaborate, it's key for researchers to work closely with farmers.
"We look forward to being educated and informed on the very practical aspects of this work," Amirbahman says.
"These are aspects that you don't read in scientific papers or books. These are people with experience. We need to get a better understanding of the impact of these facilities, especially on the environment and being able to inform them about the carrying capacity of the region."
This research, say Gorse and Amirbahman, will help grow a viable aquaculture economy in Maine.
Contact: Andrea Littlefield, 207.581.2289
From UMaine News
UMaine researchers' wireless leak detection system bound for International Space Station
UMaine researchers' wireless leak detection system bound for International Space Station
A wireless leak detection system created by University of Maine researchers is scheduled to board a SpaceX rocket bound for the International Space Station this summer.
The prototype, which was tested in the university's inflatable lunar habitat and Wireless Sensing Laboratory (WiSe-Net Lab), could lead to increased safety on the ISS and other space activities.
This is the first hardware from UMaine in recent history that is expected to function in space for a long period of time, according to the researchers.
In advance of the Aug. 1 launch, UMaine researchers are working with NASA to prepare three of the wireless leak detector boxes for flight.
From April 18–20, electrical engineering graduate students Casey Clark and Lonnie Labonte will test the payload, perform an electromagnetic interference (EMI) test, and complete the Phase 2 safety review of the prototype at NASA Johnson Space Center in Houston, Texas.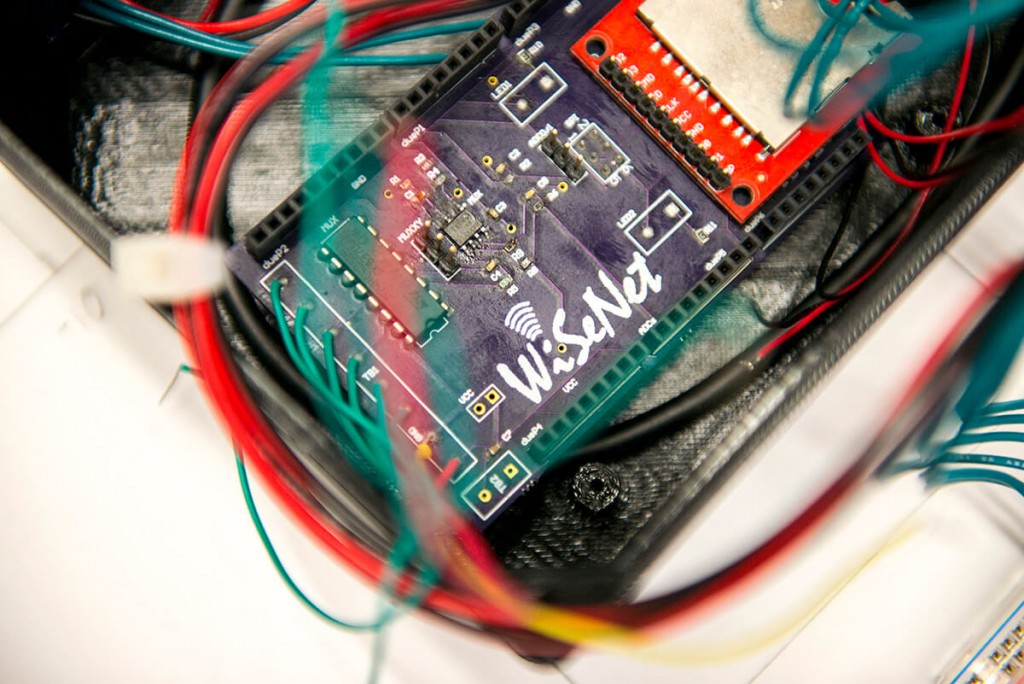 The project was one of five in the nation to receive funding from NASA–EPSCoR for research and technology development onboard ISS.
Ali Abedi, a UMaine professor of electrical and computer engineering, was awarded the three-year, $100,000 NASA grant through the Maine Space Grant Consortium in 2014. Collaborators on the project include Vince Caccese, a UMaine mechanical engineering professor, and George Nelson, director of the ISS Technology Demonstration Office at the NASA Johnson Space Center.
Leaks causing air and heat loss are a major safety concern for astronauts, according to Abedi. It is important to save the air when it comes to space missions — find the leak and fix it before it's too late.
The project involves the development of a flight-ready wireless sensor system that can quickly detect and localize leaks based on ultrasonic sensor array signals. The device has six sensors that detect the frequency generated by the air as it escapes into space and triangulates the location of the leak using a series of algorithms. The device then saves the data on SD cards that are sent back to Earth.
The device is fast, accurate and capable of detecting multiple leaks and localizing them with a lightweight and low-cost system, according to Abedi.
"Our goal is to push the boundaries of hardware and software to design a highly accurate, ultra-low-power and lightweight autonomous leak detection and localization system for ISS," says Abedi, who directs the WiSe-Net Lab.
Similar systems on the market require astronauts to walk around with a device, scanning walls to detect holes, while the team's prototype offers a "set-it-and-forget-it" solution, says Clark of Old Town, who graduates in May and will begin work this summer as a ground segment engineer at SpaceX in Hawthorne, California.
"This is the first step in a very progressive movement to monitor structural parameters of spacecraft and the ISS," says Labonte of Rumford.
The lab prototype was developed from scratch by Clark and Labonte, and includes components that were both created with a 3-D printer and bought off the shelf. Their work followed that of UMaine Ph.D. student Joel Castro and postdoctoral fellow Hossein Roufarshbaf, who developed a leak localization algorithm as part of a previous NASA EPSCoR project.
The additional funding allowed the researchers to make the system more rugged and capable for microgravity environment testing at the NASA Johnson Space Center, and eventually onboard the ISS.
While the devices are in space, astronauts who live in the ISS will install each of the three identical boxes and allow them to collect data for two intervals of about 30 hours, for a total of 60 hours each, according to the researchers.
"While the hardware is in space, our team at UMaine will be on standby mode until data collection is completed," Clark says. "The system is designed to be automated. So we do not interact with the device during on-board operations."
After each device collects data, NASA will send the information to the researchers for analysis and processing.
Once the hardware returns to Earth on a re-entry vehicle sometime next year, the team will observe how well the devices survived the launch, deployment and return with the intention of proposing a new design for the next generation, the researchers say.
Contact: Elyse Kahl, 207.581.3747
From https://umaine.edu/news/blog/2016/04/14/umaine-researchers-wireless-leak-detection-system-bound-international-space-station/
UMaine Humanities Center awards $10,000 to faculty grant projects
The University of Maine Humanities Center (UMHC) has awarded more than $10,000 to seven faculty grant projects, including several based in the community.
Spring 2016 UMHC Faculty Grants were awarded to:
Constant Albertson, associate professor of art, to support the new media component of her ceramic art project, "Coordinates of Collateral Damage."
Kirsten Jacobson, associate professor of philosophy, to support "Philosophy Across the Ages," a discussion-based program that integrates exchange among UMaine undergraduates, Orono High School students and Dirigo Pines residents.
Anne Knowles, professor of history, with instructor Benjamin Meader, for "Introduction to Cartography and Geographic Information," a cross-discipline weekend seminar series for UMaine faculty and graduate students.
Margo Lukens, professor of English, to support Penobscot tribal members with "Transformer Tales: Stories of the Dawnland," a performance program in partnership with the Penobscot Theatre Co.
Annette Nelligan, program coordinator and lecturer in counselor education, with Laura Cowan, associate professor of English, to support community engagement projects during a May-term travel study course on Swan's Island.
Greg Ondo, assistant professor of art for his "Veazie Riverside Community" engagement project.
Michael Socolow, associate professor of communication and journalism for book publication subvention of "Six Minutes in Berlin: Broadcast Spectacle and Rowing Gold at the Nazi Olympics," printed by University of Illinois Press.
The next deadline for UMHC Faculty Grants will be in Fall 2016. More information, including guidelines and the application, are online.
From UMaine News.
College of Natural Sciences, Forestry, and Agriculture to honor three outstanding faculty members
The University of Maine College of Natural Sciences, Forestry, and Agriculture will honor faculty in economics, agronomy and forestry during a ceremony at 3 p.m. April 25 in Nutting Hall.
The recipients are:
Outstanding Teacher: Caroline Noblet, assistant professor, School of Economics
Outstanding Public Service: Gregory Porter, professor of agronomy, School of Food and Agriculture
Outstanding Research: Aaron Weiskittel, associate professor of biometrics and modeling, School of Forest Resources, Irving Chair of Forest Ecosystem Management
Noblet overhauled the School of Economics undergraduate academic program and established a teaching laboratory that has reached thousands of students during her short tenure. According to peers, Noblet's work also is exemplary in the classroom, where she introduces many students to the field of economics for the first time.
"She brings her research program to the classroom, infecting her students with understanding that economics is a discipline alive, not just chapters in a textbook," said Alan Kezis, former associate dean for the college.
Noblet is a Maine native who enjoys studying natural resource decision-making and working with students at the undergraduate and graduate level. In 2012, she earned the college's 2012 Outstanding Graduate Mentor Award. Noblet is most interested in considering the changing environmental and economic landscape of her home state and how UMaine students can be prepared to step in as leaders.
Porter has dedicated three decades at UMaine to solving challenges faced by potato growers in the state and beyond.
His research and service focus on solving nutrient management problems, improving soil productivity through crop rotation and soil amendment use, and developing new potato varieties. In the past two years, in partnership with the Maine Potato Board, he introduced three new varieties in an effort to provide growers with high-quality potatoes that have higher yields and better disease resistance than current varieties.
Porter's time is officially devoted to research and instruction. But he also regularly responds to questions from the public and frequently shares his expertise in state and national forums. Porter has served the college on a number of committees, sometimes as chair.
The nature of Porter's research, coupled with his efforts to ensure his findings are accessible to those working on the ground, provide a public service for potato growers and consumers the world over.
Weiskittel joined UMaine in 2008 and has garnered nearly $5 million in competitive extramural funding for his research, published more than 65 articles in forestry and scientific journals and authored a book titled "Forest Growth and Yield Modeling." He is globally regarded as an authority on forest biometrics and modeling and is the associate editor for three journals of forestry.
New forest growth and yield models, which Weiskittel recently unveiled for Maine's Acadian forests, are vital tools for scientists and land managers to predict future wood supplies, wildlife habitat and ecological conditions.
"Forest growth models are only unveiled every few decades in most regions. So, Dr. Weiskittel's accomplishment represents a significant milestone in forest management. He is literally on a path that will significantly improve forest management efforts across the region," said Robert Wagner, director of the Center for Research on Sustainable Forests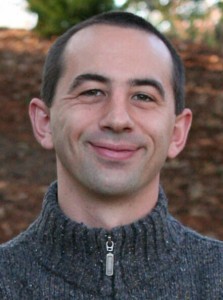 and the Henry W. Saunders Distinguished Professor in Forestry.
"Dr. Weiskittel's research accomplishments exemplify the highest performance we hope for in professors at a land grant university."
Contact: Erin Miller, 207.581.3204
From UMaine News.