In Memorium: Greg Sharrow of the Vermont Folklife Center
We recently learned of the passing of one of New England's finest ethnographers/folklorists, Gregory Sharrow of the Vermont Folklife Center. I had the pleasure to learn from Greg at one of the VFC's "Discovering Community" summer workshops in 2006, and his work on local culture, arts, folklore, and people has influenced my work as an ethnographer and at the Maine Folklife Center. All of us here send our thoughts to our colleagues in Vermont, and understand how great a loss this is for the Vermont Folklife Center, the Green Mountain State, and northeastern folklife studies. If we had a flag, it would be at half-staff.         
– Kreg Ettenger, Director


Link to a tribute on the Vermont Folklife Center website.
About the Maine Folklife Center
Since 1992, the Maine Folklife Center has played a leading role in documenting, preserving and sharing the rich cultural heritage of our region. In fact, the roots of the Center are even deeper, planted in the late 1950s by its founder, the late Edward "Sandy" Ives, a leading scholar on the folkways, folklore and folksongs of the Northern Forest region and the Maritimes. You can read more about Sandy and his impressive body of work here.
Today the Center continues its work on the issues, people and stories that define northern New England's farming, fishing, and forest communities, even as these communities undergo rapid and profound change. The work we do helps to give voice to those often left out of conversations about the future of our region, while also honoring their invaluable cultural heritage.
We invite you to learn more about who we are and what we do, and to explore the rich collection of ethnographic and historical material we have gathered over the years. This material is held in the Northeast Archives of Folklore and Oral History, now found in the Fogler Library Special Collections at the University of Maine in Orono. The Folklife Center, which was the original home of these materials, maintains a special relationship with them, and our website provides a useful gateway to the Archives.
Whatever your interest, whether tracking down a long-lost family interview, finding materials for a research or media project, or learning how to do oral history or ethnographic research on your own, we can help. You can check out our collections online (here or at our Digital Commons site), come and visit us in person, or attend one of our public events. And if you need information that you can't find here, or want to help us with our work, please let us know. We look forward to hearing from you!
---
David Mallett Performance at "Framing Maine" Event

On April 7th, Maine singer-songwriter David Mallett performed with his quartet and had an onstage conversation with WCSH's Rob Caldwell as the second speaker in the series "Framing Maine: Conversations with Storytellers and Imagemakers from the Pine Tree State." The series is organized by the Maine Studies Program and sponsored in part by the Maine Folklife Center.


Mallett, a Maine native and UMaine graduate, performed around a dozen of his best-known songs about Maine and rural life during a 50-minute set with his band, including Mike Burd on bass, Roy Clark on piano, and Susan Ramsay on violin and viola. In his 45-minute conversation with Caldwell, Mallett talked about his career and the role Maine has played in his music and his life, adding musical licks and excerpts from songs during the interview.
The Folklife Center was proud to be a co-sponsor of this event, along with Bangor Savings Bank, The Cultural Affairs and Distinguished Lecture Series, the McGillicuddy Humanities Center, and the College of Liberal Arts & Sciences. For more information about the event, including links to photos, video, and audio, please click HERE.
---
The NAFOH Creative Arts Award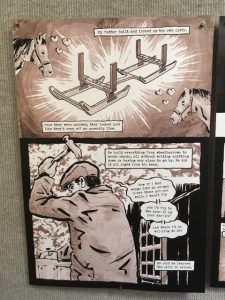 MFC has created a new grant for artists inspired by the collections of the Northeast Archives of Folklore and Oral History. The NAFOH Creative Arts Award funds a UMaine student to interpret archival material from the Northeast Archives into a creative art piece, to be exhibited locally and on the MFC website. Find out more about the award here.
The first recipient of this award is UMaine Studio Art major Christiana Becker, who will create a series of prints inspired by interviews with Iranian and Penobscot women artists. The piece will be finished by April of this year.
The panel at right is from a series done by UMA art student Joshua Roberts. It tells the story of a family struggling with poverty, alcohol, and an untimely death in Lincolnville, Maine, during the Great Depression. The work was inspired by an actual archival interview, one of many examples of visual art that has been influenced by oral history. To see the entire series, click on the panel or HERE.
---
Folk Songs of Maine
Hear our founder Edward D. "Sandy"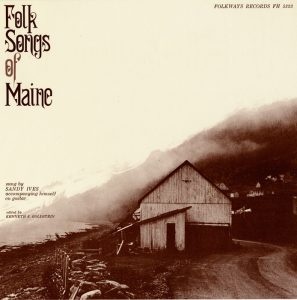 Ives sing, or order his CD Folk Songs of Maine, on the Smithsonian Folkways website.
Support Our Work
To give to our general endowment fund, please use the link below. This fund, established in the names of our founder Edward Sandy Ives and his wife Bobbi, supports a variety of Center needs.
To learn more about specific ongoing or planned projects that could also use your support, please contact Kreg Ettenger, MFC Director, at 207-581-1840.