Voyages: Music of Maine from Across the Sea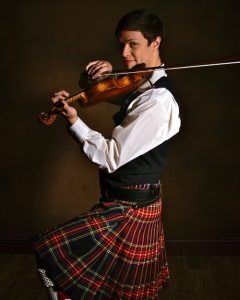 TEMPO: The Eastern Maine Pops Orchestra presents Voyages: Music of Maine from Across the Sea, featuring the U.S. National Scottish Fiddle Champion and Award-Winning Irish Fiddler, Seán Heely, on Saturday, June 1, 2019 at 7:00 pm at The Grand in Ellsworth. 
Heely has been praised for his soulful playing and breathing new life into ancient Celtic traditions. He is also a singer in the folk style and some of his repertoire includes songs in Scots Gaelic.
Guitarist Jeff Morgan will be joining Sean in music from Scotland, Puirt a beul and waulking songs, pipe tunes, ballads, Irish immigration song and tunes, plus a song in Irish – An Spailpin Fanach. Michael Marion and his singing group will lead a rousing sea shanty in an audience sing along. You will even hear the great Highland pipes paying tribute to our Scottish heritage with TEMPO. A gallery of Maine immigrants from Scotland and Ireland will be on display in the lobby of The Grand. Partial funding is provided by the Maine Humanities Council.
TEMPO, under the direction of Rebecca Edmondson and Ethan Edmondson, is celebrating its tenth year and is comprised of 30+ inspired musicians of all ages. TEMPO serves the cultural life of mid-coast, central, and Downeast Maine. Bringing generations together with music, TEMPO provides quality entertainment and education to both the musicians and audience. All are welcome to join – to test their skill, knowledge, and ability against a varying array of challenging and exciting music.
For information about TEMPO: 266-3662 or redmondson@barhbr.com
Please "like" The Eastern Maine Pops Orchestra on Facebook!
Performance: Saturday, June 1, 2019 at 7:00 pm at The Grand in Ellsworth.
For information about The Grand: 667-9500 https://www.grandonline.org/
Ticket Price: $13/Adults/Seniors, $5/Students (15 and under)
Looking for Items from the Northeast Archives of Folklore and Oral History?
Many people contact us looking for audio recordings, photographs, or other materials from the Northeast Archives of Folklore and Oral History (NAFOH). In 2017, NAFOH was transferred to UMaine's Raymond H. Fogler Library, Special Collections Department. Most of the materials were actually sent to the Library of Congress several years ago, with the goal of digitizing them for public access. Special Collections holds duplicates of those materials, as well as some additional items donated to the Folklife Center since the LOC transfer.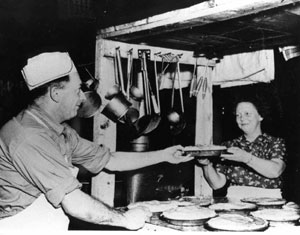 Those interested in exploring the Archives should begin their search HERE. If you are looking for a particular item and wish to see if it is available as an mp3 download, audio CD, photograph or pdf file, the staff at Special Collections are the ones to contact. You can find all their contact information by clicking on this link. Please note that Special Collections has its own policies regarding access to materials, as well as potential costs for CDs or other items. Their staff will be able to provide this information.
The Archives have been a large part of the Folklife Center's identity since well before its official origins in 1992, starting in the 1950s as boxes of tapes, photos and type-written transcripts kept by our founder, Sandy Ives. The transfer of NAFOH to the Library of Congress and Fogler Library means a shift in our mission, and allows us to use our space and equipment for new things. This move does not, however, mean a lack of appreciation for the value of tangible records of our work over the years, or that of other researchers and family documentarians. To the contrary, we respect the value of these precious items, and want to make sure that they are well-preserved, secure, and able to be accessed by researchers, family members and others. We believe this move helps us achieve this goal.
The Maine Folklife Center can still assist and advise individuals or organizations wishing to donate materials to NAFOH. We will also be adding our own new research materials to NAFOH in the coming years. If you have any questions, please feel free to reach us using our Contact Us page. 
About the Maine Folklife Center
Since 1992, the Maine Folklife Center has played a leading role in documenting, preserving and sharing the rich cultural heritage of our region. In fact, the roots of the Center are even deeper, planted in the late 1950s by its founder, the late Edward "Sandy" Ives, a leading scholar on the folkways, folklore and folksongs of the Northern Forest region and the Maritimes. You can read more about Sandy and his impressive body of work here.


Today the Center continues its work on the issues, people and stories that define northern New England's farming, fishing, and forest communities, even as these communities undergo rapid and profound change. The work we do helps to give voice to those often left out of conversations about the future of our region, while also honoring their invaluable cultural heritage.
We invite you to learn more about who we are and what we do, and to explore the rich collection of ethnographic and historical material we have gathered over the years. This material is held in the Northeast Archives of Folklore and Oral History, now found in the Fogler Library Special Collections at the University of Maine in Orono. The Folklife Center, which was the original home of these materials, maintains a special relationship with them, and our website provides a useful gateway to the Archives.
Whatever your interest, whether tracking down a long-lost family interview, finding materials for a research or media project, or learning how to do oral history or ethnographic research on your own, we can help. You can check out our collections online (here or at our Digital Commons site), come and visit us in person, or attend one of our public events. And if you need information that you can't find here, or want to help us with our work, please let us know. We look forward to hearing from you!
The NAFOH Creative Arts Award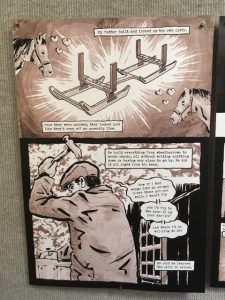 MFC has created a new grant for artists inspired by the collections of the Northeast Archives of Folklore and Oral History. The NAFOH Creative Arts Award funds a UMaine student to interpret archival material from the Northeast Archives into a creative art piece. Find out more about the award here.
The first recipient of this award was UMaine Studio Art major Christiana Becker, who created a print inspired by interviews with Iranian and Penobscot women artists. 
The panel at right is from a series done by UMA art student Joshua Roberts. It tells the story of a family struggling with poverty, alcohol, and an untimely death in Lincolnville, Maine, during the Great Depression. The work was inspired by an actual archival interview, one of many examples of visual art that has been influenced by oral history. To see the entire series, click on the panel or HERE.
Folk Songs of Maine
Hear our founder Edward D. "Sandy"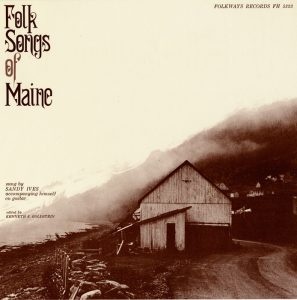 Ives sing, or order his CD Folk Songs of Maine, on the Smithsonian Folkways website.
---
Support Our Work
To give to our general endowment fund, please use the link below. This fund, established in the names of our founder Edward Sandy Ives and his wife Bobbi, supports a variety of Center needs.
To learn more about specific ongoing or planned projects that could also use your support, please contact Kreg Ettenger, MFC Director, at 207-581-1840.