---
About the Maine Folklife Center
Since 1992, the Maine Folklife Center has played a leading role in documenting, preserving and sharing the rich cultural heritage of our region. In fact, the roots of the Center are even deeper, planted in the late 1950s by its founder, the late Edward "Sandy" Ives, a leading scholar on the folkways, folklore and folksongs of the Northern Forest region and the Maritimes. You can read more about Sandy and his impressive body of work here.
Today the Center continues its work on the issues, people and stories that define northern New England's farming, fishing, and forest communities, even as these communities undergo rapid and profound change. The work we do helps to give voice to those often left out of conversations about the future of our region, while also honoring their invaluable cultural heritage.
We invite you to learn more about who we are and what we do, and to explore the rich collection of ethnographic and historical material we have gathered over the years. This material is held in the Northeast Archives of Folklore and Oral History, now found in the Fogler Library Special Collections at the University of Maine in Orono. The Folklife Center, which was the original home of these materials, maintains a special relationship with them, and our website provides a useful gateway to the Archives.
Whatever your interest, whether tracking down a long-lost family interview, finding materials for a research or media project, or learning how to do oral history or ethnographic research on your own, we can help. You can check out our collections online (here or at our Digital Commons site), come and visit us in person, or attend one of our public events. And if you need information that you can't find here, or want to help us with our work, please let us know. We look forward to hearing from you!
---
---
Folk Songs of Maine
Hear our founder Edward D. "Sandy"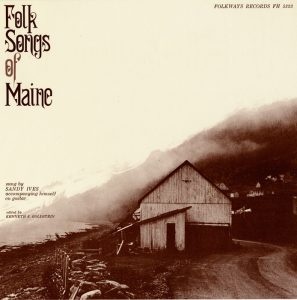 Ives sing, or order his CD Folk Songs of Maine, on the Smithsonian Folkways website.
Announcing the NAFOH Creative Arts Award
MFC is proud to announce a call for submissions to their new NAFOH Creative Arts Award. The NAFOH Creative Arts Award funds a UMaine art student to interpret archival material from the Northeast Archives of Folklore and Oral History (NAFOH) into a creative art piece, which will be exhibited locally. Applications for the award are due January 31st, 2018. Find out more about the award here!
---
Support Our Work
The Maine Folklife Center is able to provide its services with the help of your generous support.