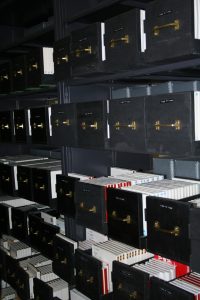 The Northeast Archives of Folklore and Oral History houses and manages all of the materials acquired by the Maine Folklife Center. In 2017, the Northeast Archives of Folklore and Oral History (NAFOH) became part of in the Special Collections Department at the University of Maine Raymond H. Fogler Library. Archival items donated to the Maine Folklife Center will continue to be deposited in NAFOH.
The material in NAFOH covers a very broad range of topics. NAFOH has 200 plus collections containing over 4,000 accessions (which includes roughly 12,600 photographs, 2,500 slides, 3,000 audio recordings, and 325,000 pages of printed materials) and is growing as more items are donated.
All NAFOH accessions are given unique ID numbers that start with NA (Northeast Archives).  Accessions that are related are then put into collections.  These collections are also given unique numbers, but these start with MF (Maine Folklife). Note: Many accessions are relevant to multiple collections so they have been cross-listed.
You can browse through the finding aids for NAFOH using URSUS (University Resources Serving Users Statewide). Important: Since it is a search within a large system, you will want to click on the "limit/sort search" and limit the results within NAFOH to the author or title (both of which in an interview refers to the interviewee), or subject (like crab picking). Unfortunately, the broader keyword search is not currently available in URSUS's limit/sort search. If you don't know the name of the interviewee and want a more general keyword search for an interview, use the regular URSUS keyword search but include "interviewed" as one of your key words, which should help narrow down your results (for example: "interviewed crab picking"). Look for our icon in the results as a quick visual.
To aid researchers, we've created a series of curated pages with finding aids about those interested in specific topics within the collection such as music & dance, recreational hunting & fishing, commercial fishing, war, community/place based histories, tales & stories, families & people, occupational folklore, arts & crafts, Wabanaki, one we are calling "social issues". In addition, we occasionally post a sample from the archives.
Full materials (audio, transcripts, and photos when available) for select collections are available through University of Maine Raymond H. Fogler Library's Digital Commons site.
NAFOH holdings are especially strong in documentation of occupations, foodways, community histories, lore and legends, traditional music, social activities, ritual and worship, material culture, and expressive arts. Other topics include logging and the lumbering industry; fishing and lobstering; women in Maine; country and western music; northeastern multi-ethnic culture; labor history; Native Americans; and tourism and hunting.
Collections in the Northeast Archives of Folklore and Oral History at the Maine Folklife Center include those that have been generated through various class activities and grant based initiatives, as well as materials that have been deposited by donors from outside the University community. Much of the material is in the form of oral history interviews, but there are also class papers, topical surveys, field journals, photographs, commercial publications and recordings, exhibit materials, printed ephemera, and other kinds of documentation.
DIY tools:
Interested in conducting your own interviews or depositing materials to the archive?  Check out what we recommend for best practices, tips for interviewing, and the forms you will need.