FIRST Seeks new Director of the Frontier Institute for Research in Sensor Technologies
Building on the foundation established by the Laboratory for Surface Science & Technology (LASST), an interdisciplinary research center at the University of Maine since 1980, the Frontier Institute for Research in Sensor Technologies (FIRST) has been created in its place. Using novel materials, advanced processes, and state-of-the-art devices, the mission of the institute is to research and develop cutting-edge, commercially viable sensor systems for biomedical, environmental, energy, defense, information technology, and other applications. FIRST consists of an internationally recognized, interdisciplinary team of scientists, coupled with a world-class set of resources and facilities dedicated to the realization of cutting-edge sensor systems that provide solutions for societal advancement and economic well-being.
As the head of a university-level institute, the Director of FIRST will hold a tenured appointment in a relevant academic department and will report to the Vice President for Research and Dean of the Graduate School. The main responsibilities consist of overseeing the research, academic, fiscal, personnel management, communications, and programmatic aspects of the institute. The Director will provide the intellectual and organizational leadership to advance the institute's mission and vision.
To view the full details of the position, please visit the Employment at UMaine Job Detail webpage. 
---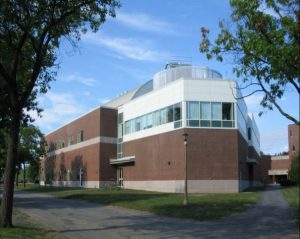 Since its establishment as an interdisciplinary research center at the University of Maine in 1980, the Frontier Institute for Research in Sensor Technologies or FIRST formerly (LASST). has been very active in carrying out research, teaching, and outreach activities in the broad area of surfaces and interfaces, thin films, microelectronic devices, sensor technology, and nanotechnology. Our faculty, students, staff, and industrial collaborators profit from the synergy brought about by many areas of expertise including physics, chemistry, microbiology, electrical engineering, mechanical engineering, chemical engineering, computer science, informatics, and bioengineering. A wide variety of on-going activities span the range from fundamental research to applied development to technology transfer.
FIRST has an impressive array of instrumentation to synthesize and investigate materials properties at the atomic scale and up to macroscopic dimensions, as well as to fabricate and test a variety of micro/nano electronic devices and micro/nano systems. We welcome opportunities to form partnerships with individuals and organizations who can benefit from this infrastructure. Our funding base is derived from a mix of university, state, federal, and industrial sources, and our skillful research and administrative staff is available to help satisfy the diverse needs of our students and collaborators.
We play a major role in educating and training the next generation of scientists and engineers. Outstanding opportunities exist for graduate and undergraduate students, postdoctoral researchers, and visiting scientists. These researchers receive specific training in their discipline, but also receive advanced training in many aspects of vacuum technology, materials science, surface physics and chemistry, bioengineering, nanotechnology, biophysics, device fabrication, and sensor technology. Graduate research assistantships and undergraduate research positions are available through a variety of funding sources.
Whether you are a prospective student, industry partner, colleague, or just someone who has an interest in surface and interface technology, we would like to hear your comments and ideas. Our door is always open for on-site visits, and any of us would be glad to discuss with you details about our projects by telephone or e-mail.