Kalina Kinyon, EES Ambassador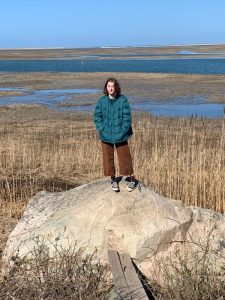 WHY DID YOU CHOOSE UMAINE AND THE EES PROGRAM?
I have always been deeply invested in the environment. My love for ecology and environmental sciences started when I was in the fifth grade when I started volunteering at a farm. My interest blossomed from there. I chose UMaine because of its close proximity to the outdoors and because of its sustainability program.
BEST HANDS ON EXPERIENCE?
Completing field research on Ascophyllum at the Schoodic Institute. I learned so much from the hands-on experience and presented in front of a large audience of peers which was something I had never done.
FAVORITE CLASS AT UMAINE?
My favorite class at UMaine is Environmental Law and Policy taught by Sharon Tisher. I loved learning about different court cases related to environmental issues, many of them taking place in Maine! There was a great amount of hands-on experience in this class, including acting out court cases, researching and writing a term paper, and understanding Maine state statutes. It was a great experience getting started with law.
ANY WORDS OF WISDOM FOR INCOMING STUDENTS?
Join a lot of clubs and take classes that are out of your comfort zone! The best way to meet people and find your interests are by trying new and exciting things.