Julia Kaplan, B.S. 2020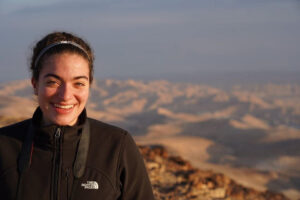 Julia Kaplan received her B.S. from the UMaine Ecology and Environmental Sciences program in 2020, with a concentration in Sustainability, Environmental Policy and Natural Resource Management, along with two minors in Business Administration and Economics. As an undergraduate, she worked at Fogler Library, and as a peer advisor for TRIO Student Support Services and the Office of International Programs. During semester breaks, Julia held internships with Clean Harbors and the Alaska Longline Fishermen's Association. During her free time, she volunteered as an EES Ambassador, rowed for the crew club, participated in intramural sports, and spent a lot of time exploring the outdoors with friends.
During the spring semester of 2019, Julia studied abroad for a semester in Ecuador. She spent a month in mainland Ecuador exploring everywhere from Quito to the Amazon Rainforest to the highlands of Ecuador. She then spent three months in the Galapagos Islands exploring the unique ecosystems, and examining the impacts of people interacting with the environment. Ultimately, this experience made her consider a career in marine science.
Due to the interdisciplinary aspect of the EES program at UMaine, Julia was able to explore several aspects of the environmental field and gain perspective of all the potential options she would have upon graduation in 2020. In May, Julia began working as an Environmental Analyst for the Massachusetts Department of Fish and Game in the Division of Marine Fisheries. She loves her new role as it combines her environmental and business knowledge and is looking forward to the experiences and opportunities that lie ahead.
Visit our other alumni profiles.