Master's student DeFranco awarded Canadian-American Center Fellowships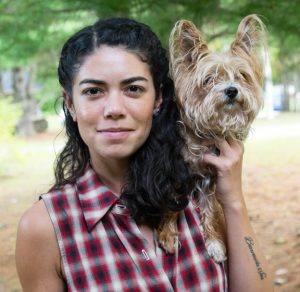 Master's student Elyse DeFranco was recently awarded a Foreign Language and Area Studies Fellowship (FLAS) from UMaine's
Canadian-American Center. 
 She is spending the first weeks of summer in a French language immersion course at the Université Laval in Quebec City to prepare for her fieldwork for her Master's thesis later this summer. She also received an Academic Year Fellowship which will support the continuation of her research over the next academic year. DeFranco's thesis is a collaborative effort with stakeholders in New Brunswick to investigate feeding of deer in winter, an increasingly common practice in the northwestern part of the province. According to DeFranco, this topic is important to study because feeding deer in winter has repercussions for public health and safety, as well as deer population impacts.
Deer fit with satellite transmitter collars have demonstrated that this human behavior is impacting the deer across the region–altering their winter migration patterns, increasing their risk for disease transmission from unnatural crowding at feeding sites, and causing abandonment of the protected overwintering yards. Consequently, as deer overwinter in residential communities where they are being fed, deer-vehicle collisions have increased, and residents are concerned about the introduction of Lyme-disease carrying ticks to their backyards.
As a member of Dr. Sponarski's Human Dimensions of Wildlife Conservation Lab in the Department of Wildlife, Fisheries, and Conservation Biology, DeFranco's research is rooted in social science.  She will examine people's motivations behind feeding deer in winter. Specifically, she will examine the link between public perceptions of forestry management in the region, particularly the use of herbicides to suppress hardwood growth, and beliefs concerning the impact forest management has on deer population. 
This summer, she will be conducting focused interviews with community members who feed deer in winter—these interviews will largely be in French-speaking communities, and the summer FLAS award is allowing Elyse to improve her French language skills prior to doing this work. She will be enlisting the help of a local translator to ensure the quality of the interviews, and will also be transcribing and analyzing the data in French in order to capture the full meaning and significance of the qualitative data. The interviews will be followed by a quantitative phase in which she will conduct a broader public survey via questionnaire that will examine public perceptions of forestry and deer management, as well as the phenomenon of winter deer feeding, in order to illuminate any differences that may exist between the people performing the feeding and the broader public opinion.
The research is made possible by partnerships with Daniel Gautreau of the Université de Moncton-Edmundston and Quality Deer Management Association (QDMA) of New Brunswick, the New Brunswick's Department of Energy and Resource Development (DERD), and the Northeast Deer Research Partnership. Funding comes from the New Brunswick Wildlife Trust Fund and the University of Maine. 
For more updates on summer research being conducted by our graduate and undergraduate students, and faculty, please be sure to follow us on
Facebook
.