Graduating Senior Afton Hupper Awarded the Bickford Memorial Prize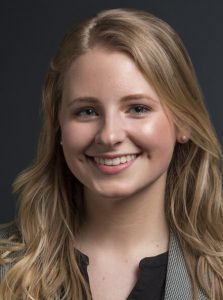 EES graduating senior Afton Hupper was awarded the Frank B. and Charles S. Bickford Memorial Prize. This prestigious honor is awarded annually to the outstanding senior student in the College of Natural Sciences, Forestry, and Agriculture. On Saturday, Afton graduated with her bachelors degree in Ecology and Environmental Sciences with a concentration in Sustainability, Environmental Policy and Natural Resource Management.
Throughout her undergraduate program, Afton thrived both academically and as a member of the University of Maine's community. Afton volunteered as an ambassador for the EES program allowing her to share her experiences and knowledge with prospective students and their parents. She also volunteered at the Orono Community Garden twice a week with John Jamison. In her free time, she enjoys traveling, cooking, and reading.
In Afton's Bickford Prize acceptance speech, she notes that "those of us who attend or work for the University know that it's the people who define your experiences, rather than the institution itself. The late-night OHOP study group in your dorm; the professor who helped you study for the exam three hours prior in their office; the core group of friends who helped you through it all, the TAs who worked well over 40 hours per week to make sure you understood your chemistry labs, your RA who always kept you in line but knew how to make you feel at home, the faithful custodians who always cleaned up after you with a smile – these are the relationships that we remember, the ones that make the UMaine experience so special; the ones that help us get through this crazy, enlightening, stressful, wonderful, ride known as college."