Registering and Responsibilities for Principal Investigators:
Log in with your University of Maine credentials
PI Responsibilities in iLab:
As a Principal Investigator, you have a few new responsibilities to enable your researchers to order services from the cores and make equipment reservations, specifically:
Accepting users into your lab (see item 1 below)
Adding available funds ("Chartfield") to your lab (see item 2 below)
Assigning funds to lab members (see item 3 below)
Disable or enable funds in the lab grid (see item 4 below)
Approving certain core service requests (see item 5 below to set the threshold)
Managing lab members and their rights (see item 6 and 7 below)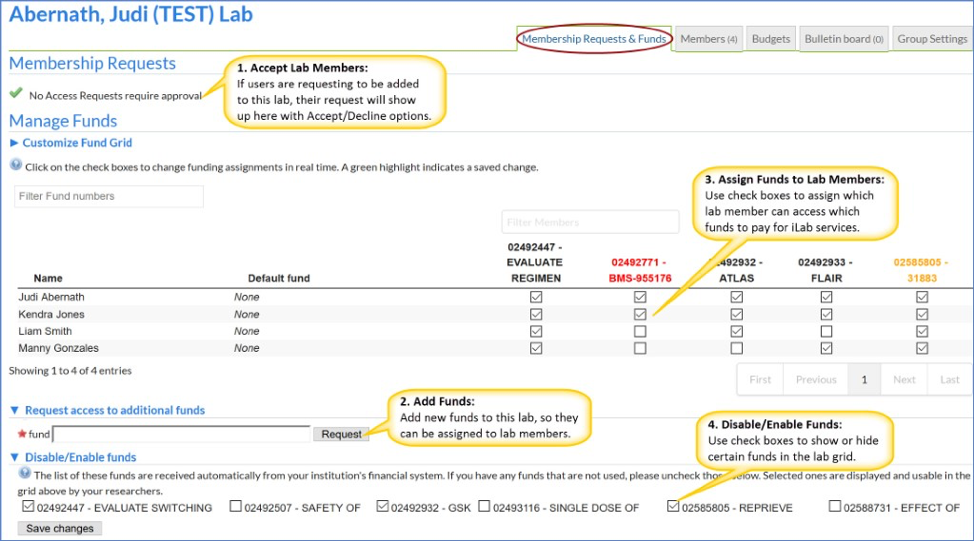 If you would prefer to delegate these notifications and approvals to specific member(s) of your lab, please email ilab-support@agilent.comwith their name and email.
Registering and responsibilities for non-Principal Investigators:
Who this applies to:
Co-Principal Investigators
Students
Other faculty and staff requesting access to a chartfield (grant or other internal funding source) that they are not the Principal Investigator of in order to charge for services to
Log in with your University of Maine credentials

Upon successful authentication, you will be prompted to select your PI/lab from the pull-down list and provide your phone number.
Submit the completed registration form. Submission will notify your PI of your lab membership request
You will be sent an email with basic instructions on using the system. However, you will not be able to place orders with your new account until your lab membership request has been approvedand you have been assigned a Chartfield.
A few notes:
You will be required to supply payment information on all reservations and/or requests when working with the core facilities.
If you do not have access to any payment information please contact your PI to resolve this.
iLab works best in Firefox or Chrome browser. The URL is https://umaine.ilab.agilent.com