Prospective Students
Employment is very strong for CET graduates!  The demand for infrastructure and building construction professionals is high in every sector of the market. 
Over 99% employment of graduates are employed upon graduation.  Average Salaries are typically in the $60,000 to $75,000 range, depending on location and market segment.
Most graduates go to work for larger contractors in management positions such as Project Engineers, Assistant Project Managers, Foreman, and Junior Estimators.
Some graduates manage the construction of infrastructure, such as roads, bridges, water and wastewater treatment, power production and distribution. 
Some graduates may also manage the construction of medium to larger building projects for both private and public owners, such as multi-story mixed use apartment buildings, institutional buildings, schools, commercial, and industrial real estate.
Some graduates go to work for owners, such as Departments of Transportation, Water or Sewer Districts.
Although many graduates work in the greater New England area, others are working all around the country and internationally.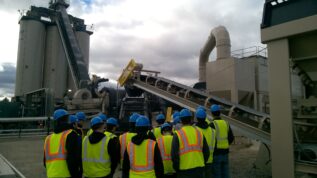 First year students on a tour of a nearby concrete and asphalt plant
ABET Accreditation
The University of Maine Construction Engineering Technology degree program is ABET accredited by the Engineering Technology Accreditation Commission.
ABET accreditation is proof that a collegiate program has met standards essential to produce graduates ready to enter the critical fields of applied science, computing, engineering, and engineering technology. Graduates from an ABET-accredited program have a solid educational foundation and are capable of leading the way in innovation, emerging technologies, and in anticipating the welfare and safety needs of the public.
For more information, go to www.abet.org.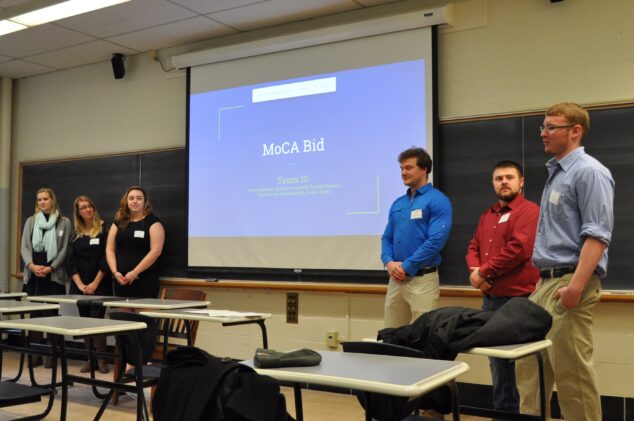 CET students presenting their project bid to a sponsoring company during the annual "Construction Industry Day" estimating and bidding competition
Entrance Requirements for Construction Engineering Technology
A high school diploma with the following specific courses:
4 years English
2 years  Algebra I & II
1 year Geometry
1/2 year Trigonometry
2 years Lab Science (physics required)
2 years History/Social Studies
17 years Academic electives (to equal at least 17 total credits)
Please see the admissions page for more information on applying to the University of Maine.