CET students build trails at Hirundo
CET seniors built phase I of the Hirundo Wildlife Refuge "Trail of the Senses" last fall semester (2016). The dedication of the 800-foot "Loop Trail" recently made the news on WABI Channel 5 and Fox news 22.  The construction included clearing, excavation, drainage layers, a culvert, finish grading an observation platform, and guiding posts.  The finished trail is accessible to everyone, including those in wheelchairs and visually impaired. Many thanks to Sargent Corporation and Central Equipment for their support with equipment and logistics!
The phase I dedication on WABI Channel 5 in Bangor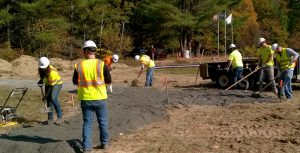 Phase II includes a quarter mile of new trail around Lac D'Or, ending with an observation platform.  A temporary bridge will be installed for equipment access around a pedestrian bridge.  These projects give students the environment to learn and practice their management and technical skills on a real service project in the community.