Home
NEWS:
Happy Maine Day 2016!
Thank you everyone for an awesome day and a great parade!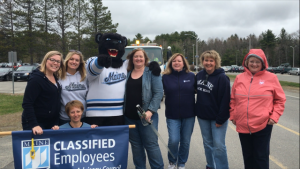 IMPORTANT UPDATE:
Due to low funds we are unable to process any request for development funds for Spring Semester and Summer Session. Please stay tuned for upcoming fundraisers through CEAC to help us help you!
What is CEAC?
The Classified Employees Advisory Council (CEAC) provides a representative voice for University of Maine classified employees to establish rapport and maintain communication among classified employees, the administration and the University community as a whole.
The CEAC facilitates and sponsors opportunities for personal and professional growth and development for classified employees by allocating funds to enhance the skills, talents and career mobility potential of classified employees.
For more information, please see the CEAC By-Laws.
Professional Development Funds are available to classified employees to enhance personal growth, skills, talents, and potential career advancement. Please follow this link for information on how to apply.