Men's Ultimate Frisbee
Men's Club Ultimate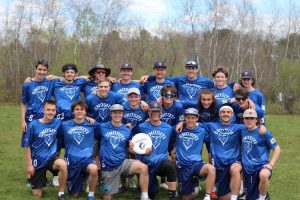 Known as Snositi Ultimate, we're a team that attempts to balance the inherent fun of ultimate frisbee along with the increasingly competitive college ultimate scene. Over the past few years, our team has reached its highest levels of competition in the college playoff series and other tournaments. We practice and compete all school year, with our "playoffs" occurring the second half of spring semester. We welcome anyone of any skill/experience level to come to a practice and see what being a part of Snositi is all about! If you have any questions at all or want more information on practices, the team, or tournaments, feel free to reach either of the captains below.
What is Ultimate?
Ultimate Frisbee is an exciting, non-contact team sport, played by thousands the world over. It mixes the best features of sports such as Soccer, Basketball, American Football and Netball into an elegantly simple yet fascinating and demanding game. To compete at the top level, Ultimate Frisbee players require an unmatched degree of speed, stamina, and agility.  Yet the simplicity of the rules means it's easy and fun for newcomers to pick up.
Ultimate Frisbee is played between two teams of seven players on a large rectangular pitch. A line drawn across the pitch at either end creates two "endzones".  These are the goal-scoring areas. A goal is scored when a team completes a pass to a player standing in the end zone they are attacking.
Players cannot run with the disc. When you get the disc you must come to a stop and try to throw it to another player.  By passing from player to player, the offense attempts to work the disc up the pitch towards the end zone they are attacking. If the disc hits the ground or is intercepted or knocked down by the other team, then the opposition takes possession.   Possession also changes if a receiver is outside the playing area when he or she catches it.
The defending team attempts to stop the team with the disc from making progress upfield by marking them. The theory is that the offense won't want to pass to a player who is being marked closely, as it's likely to result in an interception. So it boils down to the offensive players trying to get free of their markers to receive a pass, while the defense makes every effort to stay with them in the hope of forcing a turnover
Got questions or want more information?
President – Ryan Thompson- ryan.thompson@maine.edu
Game Schedule
Date
Tournament
Time
Location
Oct 22nd & 23rd
Lobster Pot
TBD
Wainwright Fields

Portland, Me

Oct 29th & 30th
Clambake
TBD
Wainwright Fields

Portland, Me