What is Black Bear Fit?
Black Bear Fit is a comprehensive 12-week team-based small group training program.  Teams of 4-6 people meet twice a week with a personal trainer and progress towards fitness goals. Each team will get a superior workout experience while building relationships that help to increase personal accountability. Participants have the option of purchasing an unlimited semester FitPass for a reduced rate of $35.  By far the best package deal we have to offer! Individuals are welcome to join already established groups. Additionally, scroll down for solutions to "Keep Up With Your Black Bear Fitness Over Breaks!"
What to Expect
Show up ready for a great workout! A 60-minute session includes a warm-up, a variety of strength and cardio exercises and a cool down/stretching period. The trainers like to keep everyone interested by using a variety of equipment and training techniques. Circuit training is one of our favorites! The focus of each group may differ slightly depending on what the group is interested in doing, from running to building strength with free-weights and machines. Our goal is to see each individual improve in ways that are meaningful to them.
Cost & How to Register
Member: $132; Non-Member: $160
You do not need a membership to attend the program sessions or fitness classes, but if you would like to use the Recreation Center outside of the program and fitness classes you will need either a membership or day pass. Visit the front desk or our website for more information.
How to Register:  Register as a team or as an individual.  Register online or in person at the front desk of the Rec Center.
Days and Times:  See chart below. If you have a group of 4 or more and would like to request a time that is not already available you may contact Adrianna Del Amo.
Spring 2019 Session Dates
January 28 – April 26 (No training Feb 18, March 18-22)
Spring 2019 Group Times – 60 Minutes Each
| | | | | |
| --- | --- | --- | --- | --- |
|   | Monday | Tuesday | Wednesday | Thursday |
| 6:00 a.m. | Sierra | Toni | Sierra | Toni |
| 7:00 a.m. | Nate | Alexis | Nate | Alexis |
| 12:00 p.m. |  – | Nate | –  | Nate |
| 3:00 p.m. | –  | Michaela | –  | Michaela |
| 4:00 p.m. | Sierra |  – | Sierra |  – |
| 5:00 p.m. | Nate |  – | Nate |  – |

I never thought the gym was for me. I could ride my bike and walk and work in the yard at no cost. But, I never got around to doing it, and at over 60, I got desperate and signed up for one semester with a trainer and group. I am hooked! It is more fun with friends, and the trainers have the workouts all planned to work all muscle groups! Gloria

Participating in BBF provides you with this sense of mental dedication that spills over into other areas of your life. I knew if I could get through a challenging workout, I could conquer a lot of other things (even simple things like household chores or writing a paper). You become strong, not just physically, but also mentally. Michelle

I have been truly blessed with wonderful trainers and supportive colleagues who have helped me overcome fear and try many new exercises I never thought I would be able to do. I am always supported and encouraged to request adaptation when and exercise is too risky, and over time I have become stronger and more resilient. I am more fit today at 57 than at any point since my accident and I am only getting stronger. I have a terrific time with my new friends while doing the work to improve my health, I am so grateful for this program! Tamara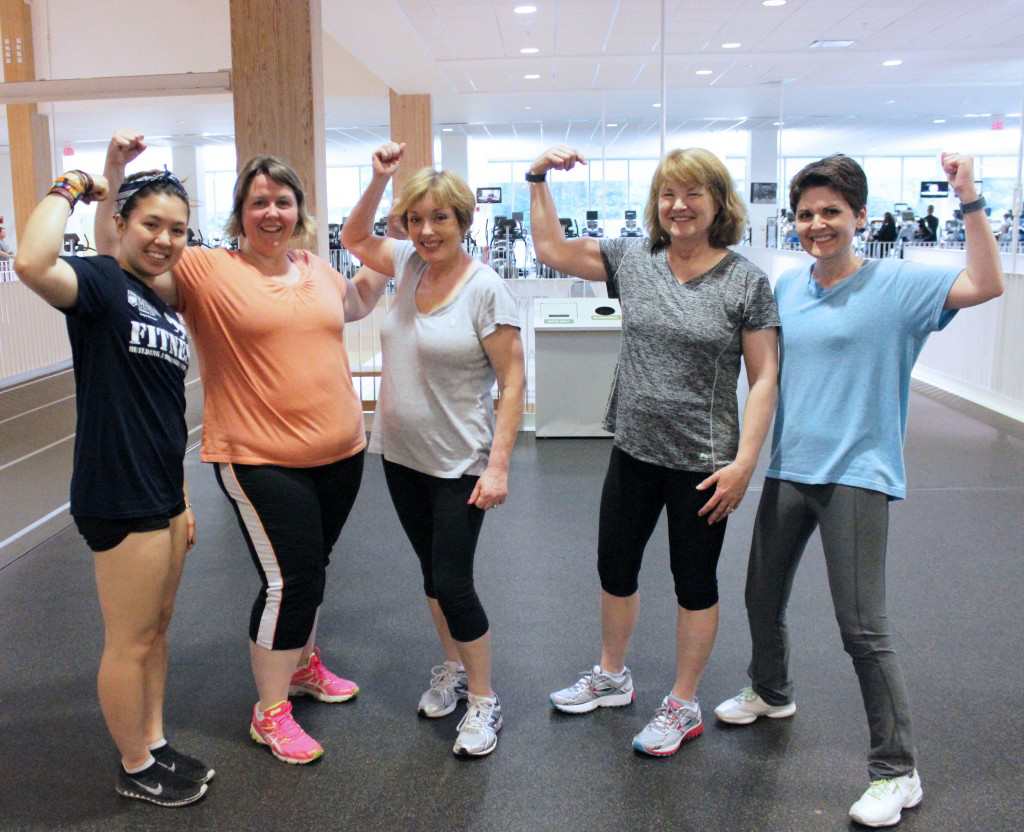 A happy BBF group with their Trainer!
Keep Up With Your Black Bear Fitness Over Breaks!!
---
Holiday Maintain No Gain
This holiday season, maintain, don't gain!  In between Black Bear Fit's Fall and Spring sessions we encourage you to continue your fitness program and beat the holiday weight gain.  You'll meet with a trainer twice a week for 1 hour with a group of 4-12 people.  You will also have access to all free group exercise classes to help you keep active.
Registration: November 19 – December 19
Session dates: January 3-24
Meets T/Th at 6:00 a.m., 12:00 p.m. or 5:00 p.m. 
Member: $37; Non-Member: $44
---
Black Bear Fit Camp
Maintain fitness during the 4-week break between Summer and Fall BBF!  No weigh-ins, no assessments, just fun, challenging workouts that will break through your comfort zone!
Each week, your group will do one program wide challenge!  We will record the results and post them on the BBF Facebook page and send them out via email.  The weekly challenge workout is meant to give you some friendly competition to motivate you to push yourself a little harder. 
If you have a group of four or more you can create your own group! Email adrianna.delamo@maine.edu with your group request.